Take off your lens cap and hop in the Zero-One to get a history lesson about Pokémon Snap.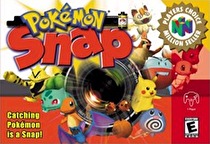 In the 1990s, HAL Laboratory was more closely intertwining themselves with Nintendo. Sure, the company seemed to favor the NES through the 1980s, but it wasn't really until the early '90s when they partnered with Nintendo to release Kirby's Dream Land on the Game Boy that HAL Laboratory became Nintendo exclusive. After HAL worked with Nintendo to release Super Nintendo games ranging from EarthBound to the late 1997 release Kirby's Dream Land 3, the burgeoning studio, headed up by future Nintendo President Satoru Iwata, started working on the Nintendo 64.
HAL's first Nintendo 64 project was SimCopter 64, though that quietly went away after a brief showing at E3 1997. What would later become their first Nintendo 64 release was first developed as a 64DD title focused on taking pictures. "Originally, [Pokémon Snap] wasn't a Pokémon game, but rather a normal game in which you took photos," Iwata said in an Iwata Asks for Kirby's Epic Yarn. "The motivation for playing the game wasn't clear...and later on we made a somewhat forced switch to taking pictures of Pokémon."
With that, Pokémon Snap was born, and the team at HAL, led by Yoichi Yamamoto, got to work on the Pokémon-themed photography game. Late in development, it left its 64DD dreams behind due to lagging sales of the Japan-only peripheral. Pokémon Snap launched in March 1999 in Japan, followed up by releases that fall in other regions.
Pokémon Snap wasn't solely a solo HAL Labs joint, though. Assisting them was Pax Softnica, a little-known developer that worked a lot with Nintendo in the '90s. The Japan-centric studio mostly made games for Nintendo that never crossed over to other shores, like the Famicom games Shin Onigashima and Mother (though the latter eventually came out as EarthBound Beginnings on the Virtual Console). The late '90s were prolific for the team, and also the end of their relationship with Nintendo. In a few years, they worked on EarthBound, Donkey Kong '94, Wrecking Crew '98, Mole Mania, and Balloon Kid. Pokémon Snap was one of the last projects they worked on with Nintendo.
While members of the team responsible for Pokémon Snap still remain involved with HAL Laboratory, it seems that with every passing year, the likelihood of a grand revival wanes. We can hope for elements of Snap to show up in future Pokémon games, like they do in the photo mode in Pokémon Sun and Moon, but it's best we keep our hopes at Todd Snap's heroic camera-snapping return in check.