A new challenger approaches!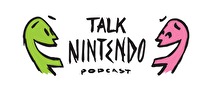 NWR Community members Casey Gibson and Perry Burkum approached us with a podcast they created, and although we already have more than our fair share of Nintendo podcasts, we were delighted to host their show for them. Thanks to Casey and Perry for providing Nintendo World Report with additional great content. If you would like to get ahold of them, send us an email at talknintendopodcast@nintendoworldreport.com and we'll be sure it gets to them.
This is their second episode, you can find the first episode over at Soundcloud. Both episodes are in the feed, which you can subscribe to here.
Download the Podcast: Direct Download
Subscribe to the RSS Feed: Subscribe
Talk Nintendo Podcast is a new show where your hosts Casey Gibson and Perry Burkum come together every other week to sit down and do what they do best: Talk Nintendo. Each episode we dive into what we've been playing, touch on Nintendo news, see what we have dug up on Craigslist and discuss a feature topic of the show, ranging from past gaming memories to an in-depth discussion about a specific game. This week we start off by discussing the new hotness that is Picross 3D Round 2 and Metroid Prime Federation Force. Jumping from one game with a checkered development to another, the boys take the plunge and play Mighty No. 9. We move right along by cutting into some eShop downloads and exploring The Legend of Kusakari. Perry talks about his biggest gaming feat, perfecting all of Rhythm Heaven Megamix. We wrap up what we've been playing by talking about Hyrule Warriors Legends DLC and *gulp* Animal Crossing amiibo Festival.
After a quick break we pull our pants up and jump feet first into the September 1 Nintendo Direct. We go over EVERYTHING that was announced and talked about and give our impressions. This is a meaty discussion and actually takes the role of the featured "Topic of the Show" for this episode.
Last but not least we have our Craigslist Finds segment, where the guys talk about what Nintendo items they've found on Craigslist and flipped on Amazon. How much profit did they make? Tune in an find out!
We want to hear from you! If you have any comments, concerns, criticism or questions that you'd like us to answer on the show, please contact us.