Having already spilled his top 10 list, Donald takes aim at his personal picks for some other categories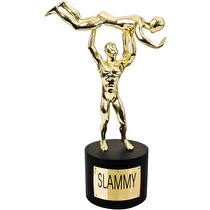 Now that it's safe to actually give Game of the Year awards – seriously, I can't recall major games releasing this late in a year since Final Fantasy X came out on Boxing Day 2001 – I've already spoiled my top ten list in both audio and video formats. But I ended up writing a whole bunch of other awards – and the funny thing is, they all start with B.
So let's roll them down in a somewhat coherent order: my personal "B" awards for 2015.
Best Old Game of 2015: Shovel Knight
I finally finished my long-delayed run through the 3DS version of Butt Mode, then instantly restarted with a cheat code to prevent deaths from spikes and pits. Then the total conversion mod Plague of Shadows came down – for FREE – and I fell in love with it all over again. Now I just play the waiting game for the 2016 Best Amiibo winner to arrive.
Runner-up: Bayonetta 2, because its multiplayer was a New Year's project and it always needs more praise. (I didn't actually play a lot of old games this year.)
Best Amiibo: Yarn Yoshi
Sure, it's more expensive than the others. But it's so huggable (even the little one) and you can tell the love that went into making it. I don't even mind that I use literally every other amiibo in its game.
Runner-up: (tie) Mega Man, Shulk, and Ness – three characters that I never dreamed would ever get official merch.
Best Re(make/master/release): 3D OutRun
If you didn't realize that M2 were the best in the business after the GBA Virtual Console on Wii U and the Rebirth games on WiiWare, 2015 was your wakeup call. Series 2 of the Sega 3D Classics covered a lot of ground, but OutRun is the best of the bunch. When you can take a game known for its music and come up with compositions that sound as good or better to accompany it, you deserve all the respect in the world.
Runner-up: The Legend of Zelda Majora's Mask 3D, for not making me waste a literal hour waiting for 6 pm on the 3rd day.
Biggest Personal Disappointment: Pokémon Shuffle
I already owned a matching Pokémon puzzle game in Battle Trozei, and I initially thought that I would hate this game, especially where it doesn't have the limits. I ended up spending the equivalent of a week playing it, largely in five minute increments on the Meowth stage. Why? Well, let's consider the alternative for a minute.
Runner-up: Earthbound Beginnings, an unrefined version of my favourite game of all time. Don't play it without a ROM hack.
Biggest Surprise: Splatoon
Before 2015, I can count the number of shooters I played on one hand, and the number that I played online and enjoyed was absolute zero. I figured the draw would be the single player, and I even bought a 3-pack of amiibo for it, but I ended up putting my time into the game in 3-4 hour weekend chunks.
Nontendo runner-up: Hatoful Boyfriend. Wait, a bird based dating sim? And it's on the Vita?
Best Game You Lot Didn't Play: Stella Glow
This should have attracted some attention at the end of the year, but releasing a large strategy RPG just before Xenoblade X and after Legend of Legacy meant nobody played it. And it's a shame, since it's got a rockin' soundtrack and fun gameplay/social interaction. It just missed my top 5.
Runner-up: LBX (Little Battlers eXperience). Slightly more understandable since it didn't have online, but it's still a pretty fun title.
Biggest Piece of Junk: Attack on Titan: Humanity in Chains
A game with such a low score I'm honestly shocked Daan didn't review it.
Runner-up: Mario Tennis Ultra Smash, which is only a runner up because I got more in trade than what it cost to let the game ship.
Biggest Game I Missed: (tie) SteamWorld Heist and FAST Racing Neo
With apologies to Image & Form and Shin'en, but December was the throes of Skell-a-mania for me. I do have them and hope to rectify these injustices at some point.
Runner-up: Splatoon single player
Nontendo runners-up: Trails (in the Sky Second Chapter/of Cold Steel).
Best Moment: Xenoblade Chronicles X – Getting the Skell
It involved running all over hell and Sandy Bum Canyon, but once I got my first Skell and got the chance to rip open indigens who had previously turned me into lunch with a giant frickin' laser sword, the grin on my face had to be surgically removed.
Runners-up: Getting the flying Skell (Xenoblade Chronicles X), beating Burt the Bashful with Mega Man Yoshi (Yoshi's Woolly World)
Nontendo runner-up: Playing the Akira Yamaoka version of "Time to Make History" (Persona 4: Dancing All Night)
Best Trend: Indie devs resisting the urge to put a game on sale (Affordable Space Adventures, SteamWorld Heist, Axiom Verge)
It's really hard for an independent developer to have a giant preorder campaign for their title, and putting your game on sale too often results in the Atlus problem where I keep putting off game buying because "oh, it'll be on sale again". Several independent developers took this step this year, taking the advice of the late Satoru Iwata in 2011 and avoiding a race to the bottom.
Runner-up: Nintendo of America embracing same-sex relationships following the Tomodachi Life incident (Fire Emblem Fates)
Biggest Cluster*honk*: Devil's Third
I don't think I need to explain this again , do I?
Runner-up: The amiibo situation, January – November 2015
Biggest Thing That Needs To Go Away In 2016: Lack of transparency in localization changes (Fatal Frame: Maiden of Black Water, Xenoblade Chronicles X)
Atlus explained this year that several scenes in the Vita title Dungeon Travelers 2 had to be altered in order to prevent the title from getting an AO rating. If similar changes were made in Fatal Frame and Xenoblade X to meet ratings requirements – and not just with the ESRB, but in Europe if NoE is handling the localization – then companies need to call out what changed and why. Hopefully the new account system will see Nintendo Topics make its way over from Japan so there's a one stop shop for these things.
Runner-up: The Canadian dollar trading as low as it is against the US dollar (see: $75 Devil's Third and $65 Mario Tennis Ultra Smash)
Best Social Media Account: @sonic_hedgehog & Knuckles
The Sonic Twitter account was just a staid news source, until they hired an actual fan to run it and all hell broke loose. Slamming bad games? Check. Quality poetry? Check. Sick deals? Check. If nothing else, they made history this year by getting Nintendo of America's Twitter account to actually respond to a tweet for the first time in recorded history.
.@sonic_hedgehog Shave yourself the embarrassment, Eggman. Maybe spend time grooming that 'stache instead of capturing woodland creatures.

— Nintendo of America (@NintendoAmerica) November 18, 2015
Runner-up: @BadMiiversePosts, your one stop shop for Star Wars spoiler warnings and squid-kid puns.
Nontendo Game of the Year: Persona 4: Dancing All Night
Some poeple who know me say this is a makeup call for not giving Persona 4 this award in previous years. Well, they're wrong. a) The first time I play a Persona game in its launch year will be P5, 2) It's my favourite rhythm game this year, and d) it gave me a new appreciation for the Persona 4 soundtrack. Plus, I got to write about it here!
Runner-up: Steins;Gate – gave me new perspective on one of the best anime series in the last decade. The fact that this got localized has to be some sort of miracle.