The hits keep on coming to Nintendo's digital store front.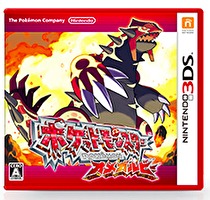 We're in the midst of the holiday release lineup all around the globe, and things are no different on the eShop in Japan this week. The 3DS is having another week with a surplus of releases. Of course, leading the pack is the latest entry into the Pokémon series with Omega Ruby and Alpha Sapphire. To coincide with the international release (sorry that you have to wait until next week, EU people!), the game is set to hit retailers and the eShop this Friday. We already have a review for the game up on the site from our very own Daan Koopman, so be sure to check that out here if you're a Pokémaniac.
The Wii U isn't being left out in the winter cold this week either. The latest Taiko Drum Master title, Taiko no Testsujin Tokumori, is sure to keep rhythm fans happy. And for those of you wanting more party games in your life, you can always opt to pick up the latest Doraemon themed party game on Wii U (also releasing on the 3DS this week). The Virtual Console is still going strong as well offering up the likes of DK: King of Swing (GBA) and Bomberman '94, the first VC Bomberman title to hit Nintendo's home console. For a complete look at all the releases this week, be sure to check out the full round-up below!
3DS
Downloadable Titles
Simple DL Series Vol. 34 The Misshitsu kara Dashutsu Fushigi Hakken! Hakubutsukan-hen - 520 yen
Simple DL Series Vol. 34 The Misshitsu kara Dashutsu Fushigi Hakken! Hakubutsukan-hen Demo - FREE
Ultimate Poker & BlackJack - 500 yen
Puchikon 3-gō SmileBASIC - 1,000 yen
Puchi Noberu Betsuri no Jūichi-gatsu - 200 yen
Dora Eigo Nobita to Yōsei no Fushigi Collection (retail title) - 4,937 yen (from 11/20)
Dori Kannon Doki Doki Tokimeki Himitsu no Ongaku Katsudō Start De-su!! (retail title) - 5,480 yen (11/20)
Fujiko F Fujio Characters Dai Shūgō! SF Dotabata Party!! (retail title) - 6,145 yen (from 11/20)
Maho Col(lection) Mahō Idol Collection (retail title) - 5,980 yen (11/20)
Pocket Monster (Pokémon) Omega Ruby / Alpha Sapphire (retail title) - 4,571 yen (from 11/21)
Virtual Console
NA (no titles since 5/7)
Wii U
Downloadable Titles
Kung Fu Party - 600 yen
Taiko no Tatsujin Tokumori! (retail title) - 5,627 yen (from 11/20)
F Fujio Characters Dai Shūgō! SF Dotabata Party!! (retail title) - 7,717 yen (from 11/20)
Virtual Console
Nuts & Milk (Famicom) - 514 yen
Bura Bura Donkey (DK: King of Swing, Game Boy Advance) - 702 yen
Bomberman '94 (PC Engine) - 617 yen
Kekkyoku Nankyoku Daibōken (Antarctic Adventure, MSX) - 823 yen