Nendoroid celebrates a classic Zelda title, new Ultra Detail Figures, and more!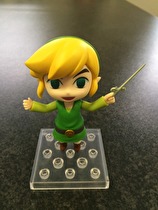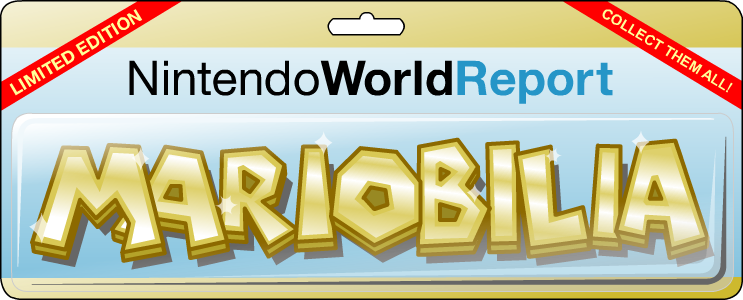 The Legend of Zelda has been getting a whole lot of really awesome collectibles since the 25th anniversary of the series, and the merchandise just keeps rolling out with this celebration of last year's The Wind Waker HD.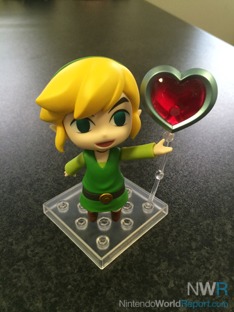 Japan's Good Smile Company has seen Nintendo join the ranks of their Nendoroid figurine collection with both Luigi and Isabelle from Animal Crossing around mid-2014. Next in the line-up, and number 413 in the total figurine series, is Link: The Wind Waker Version.
This simplified art style of Toon Link, as Smash Bros. calls him, fits the Nendoroid series perfectly, just as Isabelle did in the last Nendoroid release. The design of the figure matches the style of the game extremely well, and the soft colors and smooth surfaces make the figure accurate to the source material, while still retaining intricate details where needed. Even the point of Link's hat can be swiveled to match the pose and wind direction, just like in the game!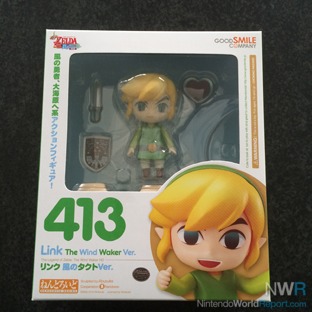 Remember to check for the authenticity sticker, as always!
Link comes with plenty of interchangeable expressions and accessories, true to the figurine line that preceded it. Firstly, and most importantly, are the Hero's Sword and Hero's Shield that are so synonymous with this iteration of Hyrule's hero. Link comes with alternate arm and leg positions that can be swapped to allow for various fighting stances, and some swappable hand pieces allow him to grasp his sword and shield. There's also a tilted hand to allow a sword swing pose, along with a transparent swishy trail piece that slides over the blade for an added effect. The pommel (that nubby bit at the bottom end of a sword's handle) can be removed to allow you to slide the sword into his gripped hand, then replaced. Likewise, the shield's handle can be unclasped to make it easier to slide into Link's right hand and it can even swivel slightly to allow for some more dynamic poses.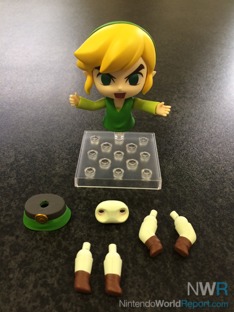 Sorry, Link. I had to show how your legs work!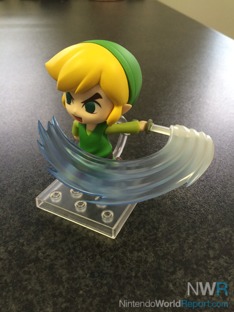 Hyah! Those ChuChus don't stand a chance!
Besides the weaponry, Link also comes with a spare hand holding the Wind Waker baton, and there's also a Heart Container item that can clip onto a transparent stalk for some mid air item poses. He also has three alternate facial expressions which can be unclipped from his head and replaced in much the same way as Isabelle's.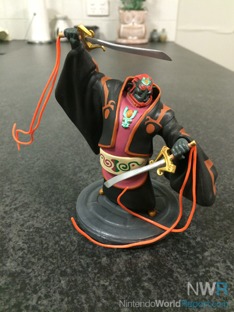 While we're on the topic of The Wind Waker, I'll also show off a neat little pack-in that many players should already be aware of. I actually had this in postage limbo since the game launched, but now that I've received it I can showcase the collectible Ganondorf figurine that came with the Limited Edition version of The Wind Waker HD on Wii U.
This figurine actually has two versions. The one that came with the game in European regions stood on a plain black pedestal and had a clear dome over the top to prevent it from getting dusty. This version, however, came with the US version of the game and has no dust-proof dome, and Ganondorf instead stands on a gray stone-like platform with a circular brick texture beveled into it.
It's hard to say which region got the better deal here. As figurine collectors would know, keeping your displays dust-free is a constant chore, but the US version's pedestal does look pretty cool. Australia didn't get this figurine at all, so eBay is your best bet to pick it up especially so long after the game launched.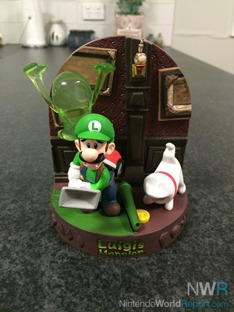 Another item that arrived along with my delayed import package was this spectacular Luigi's Mansion diorama from Club Nintendo, as a celebration of the Year of Luigi. The bro in green cowers with his Poltergust against an ornate backdrop full of eerie ghostly scenery, including a Greenie ghost, a Polterpup, and spooky picture frames.
This item was made in very limited quantities and comes with a production number printed on a gold label seen on the underside of the diorama. The Year of Luigi emblem can be seen on the back. This diorama saw a Club Nintendo release in both North America and the UK, but sadly other regions weren't so lucky.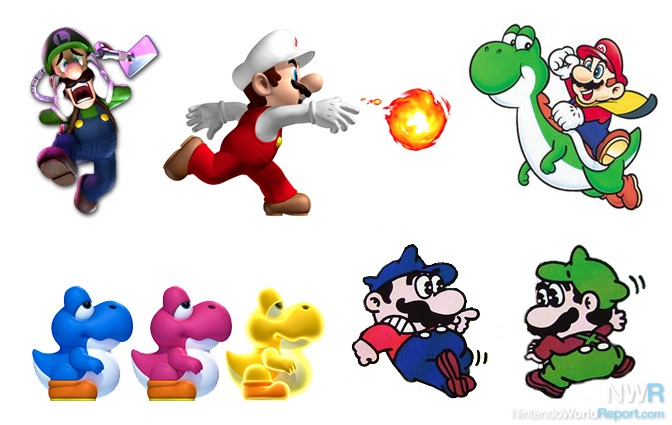 I've collected the art this series is inspired by.
Next up is the second set in MediCom Toy Company's UDF (that's Ultra Detail Figure) series released in Japan. The first collection featured various iterations of Mario and Link from across Nintendo's history. Wave two expands on both ends of the timeline with the original Mario Bros. arcade designs for Mario and Luigi, and both Fire Mario and the Baby Yoshi triplets from New Super Mario Bros. U.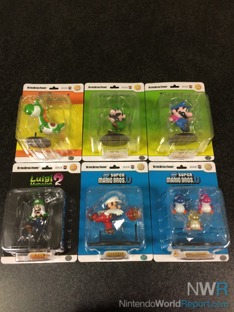 Also in this latest set is Luigi in his "Home Alone" pose from the Luigi's Mansion: Dark Moon promotional artwork, and the classic Yoshi design from his first appearance in Super Mario World.
These figurines are as detailed and fun as those in the first series, and it would be neat to see the line expand even further with more characters like Pit, Samus, Donkey Kong, or Wario. Even a figure of the original white Kirby design could be interesting.
The UDF figures, as well as the Nendoroid Link, are new releases and should still be available at most import retailers such as Hobby Search and Amiami. Remember to look for the shiny authenticity sticker if you're shopping on eBay, don't support bootlegs folks!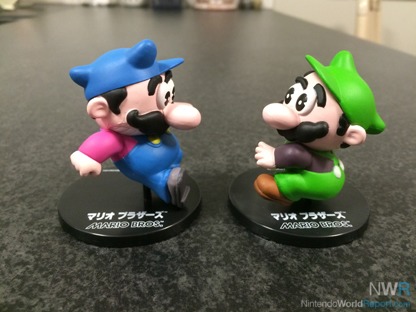 Humble brotherly beginnings.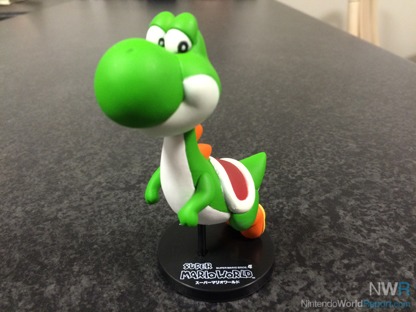 Yoshi's design has changed subtly over the years.
That's all for now, but as always feel free to check out the gallery below for more photos.