It's a slow week on the eShop, but there are a few worthwhile titles in the mix.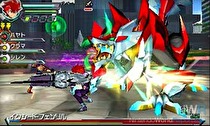 The eShop is a bit sparse on releases this week, but there are still a few gems that have been tucked in. In terms of Nintendo 3DS releases, there are at least two titles that could be worth your hard earned cash with Gaist Crusher God and the first Taiko Drum Master title for 3DS (originally released only at retail in 2012). Namco Bandai isn't doing anyone any favors with the digital release of this Drum Master title as it's still listed for the same price as when it was originally released physically. Luckily for people who would be on the fence, there is a demo available to check and see if it's worth over 5,000 of your precious yennies. Gaist Crusher God, internally developed by Capcom without Treasure this time around, is also on the digital shelves. Given the poor sales of the first title, it was a bit surprising to see Gaist Crusher God exists. Check out the free demo from last week if you want, or just go all in starting September 4.
The Wii U is finally getting Toki Tori 2 on top of a few Virtual Console titles. Adventures of Lolo probably isn't going to blow any minds here, but Klonoa could be a fun old-school-ish platformer worth checking out. The good news with all of these titles is that you don't have to have a Japanese Wii U to check them out as they're also available in all English speaking regions. For a complete look at all of the releases this week in Japan, check out the round-up below.
3DS
Downloadable Titles
Custom Monsters - 800 yen
Gardenscapes Tsukurō! Daiteien - 700 yen
Dokopon Choice - Fate/kaleid liner Prism Iriya 1 - 2-kan + Omake Pack - 1,260 yen
Gaist Crusher God (retail title) - 4,990 yen (from 9/4)
Taiko no Tatsujin Chibi Dragon to Fushigina Orb (retail title, digital re-release) - 5,184 yen (from 9/4)
Virtual Console
NA (no titles since 5/7)
Wii U
Downloadable Titles
Toki Tori 2 + Himerareta Nazo to Fushigina Shima (Toki Tori 2) - 1,500 yen
Virtual Console
Adventures of Lolo (Famicom) - 514 yen
Kaze no Klonoa - Yume Miru Teikoku (Klonoa: Empire of Dreams, Game Boy Advance) - 702 yen