The week after Mario Kart still served up a healthy number of key releases.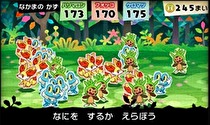 Even after the all out onslaught of Mario Kart last week, the eShop still keeps plugging along with some significant releases in Japan. The Nintendo 3DS is not only receiving the exclusive Persona Q, it is also getting a brand new Pokémon themed StreetPass game with The Band of Thieves and 1,000 Pokémon. This Pokémon game is only available for a limited time, until September 30, so if you have a Japanese 3DS be sure to download it as soon as possible.
Oddly, without any fanfare or announcements, Nintendo has released the first DS Virtual Console game on the Wii U in the form of the original Brain Age. It's surprising, but we all knew this would be coming sooner or later. The Wii U is also seeing a few other Virtual Console releases with another entry in the Fire Emblem series, as well as Famicom version of The Legend of Kage. There are quite a few more titles available this week on Nintendo's digital store front, so for a complete round-up of all of this week's releases check out everything below!
3DS
Downloadable Titles
A Ressha de Ikō (retail title) - 5,724 yen
A Ressha de Ikō DEMO - FREE
Edge - 400 yen
Dokopon Choice Kami Nomi zo Shiru Sekai (The World God Only Knows) Vol. 2 11 - 20-kan Pack - 4,400 yen
Dokopon Choice Chihayafuru Vol. 2 11 - 20-kan Pack - 4,400 yen
Dokopon Choice Black Bird Vol. 1 1 - 9-kan Pack - 3,960 yen
Card Fight!! Vanguard - Lock On Victory (retail title) - 5,122 yen (from 6/5)
Card Fight!! Vangaurd - Lock On Victory DEMO - FREE
Persona Q: Shadow of the Labyrinth (retail title) - 6,980 yen (from 6/5)
Tōzoku to 1,000-biki no Pokémon (The Band of Thieves and 1,000 Pokémon) - FREE (from 6/5 to 9/30)
Steel Empire DEMO - FREE
Virtual Console
NA
Wii U
Downloadable Titles
Edge - 400 yen
Virtual Console
Fire Emblem: Ankoku Ryū to Hikari no Tsurugi (Famicom) - 514 yen
Kage no Densetsu (The Legend of Kage, Famicom) - 514 yen
Tōhoku Daigaku Mirai Kagaku Gijutsu Kyōdō Kenkyū Center Kawashima Ryūta Kyōju Kanshū Nō o Kitaeru Otona no DS Training (Brain Age, Nintendo DS) - FREE (until 6/30)