Japan says yes to more VC goodness on the Wii U.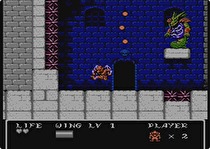 As always, the Nintendo 3DS sees a majority of the digital releases this week, however, the Wii U still receives some notable titles that gamers in the West might be a little jealous of. Although the 3DS isn't receiving any new Virtual Console titles, there are still quite a few downloadable titles, comics, demos, and even a special version of Winning Eleven (Pro Evolution Soccer) is available.
The Wii U can't really compete with the 3DS in terms of downloadable titles, but it does get three Virtual Console games added to the service. Two of the games, a Super Famicom iteration of TwinBee and Yie Ar Kung Fu 2 for MSX, are a bit obscure and never appeared in North America. Gargoyle's Quest II, though, might be something that gamers in the West are more familiar with. Although it is the second game in the Gargoyle's Quest series, it's a prequel to the first game with similar, but somewhat enhanced, gameplay. The game once again stars the gargoyle Firebrand and features both an overhead map and sidescrolling action areas for players to go through. After being added today, Gargoyle's Quest II can be purchased on either the Wii U or 3DS. For a complete look at the round-up of releases in Japan this week, check out the list below!
3DS
Downloadable Titles
Dokopon Choice Ichi-nen Go-kumi Ikimono Gakari 1 - 6-kan Pack - 2,640 yen
Dokopon Choice Ore-sama Kingdom Vol. 1 1 - 10-kan Pack - 4,400 yen
Dokopon Choice Hōzuki no Reitetsu Vol. 1 1 - 10 -kan Pack - 5,400 yen
Purchinoberu Tōgeki no Gogatsu - 200 yen
Maru Gōkaku! Takken Shiken Heisei 26-nendo-ban - 2,800 yen
Maru Gōkaku! Takken Shiken Heisei 26-nendo-ban DEMO - FREE
World Soccer Winning Eleven 2014: Aoki Samurai no Chōsen (retail title) - 4,579 yen (from 5/22)
Monoke Tantei Shida no Ayakashi Jiken-chō DEMO - FREE
Penguin no Mondai + Bakushō Roulette Battle!! DEMO - FREE
Virtual Console
NA
Wii U
Downloadable Titles
Virtual Console
Red Arremer II (Gargoyle's Quest II, Famicom) - 514 yen
TwinBee: Rainbow Bell Adventure (Super Famicom) - 823 yen
Yie-Gah Kōtei no Gyakushū: Yie Ar Kung Fu 2 (Yie Ar Kung Fu 2, MSX) - 823 yen