Not LEGO Island 3, but a LEGO game none the less.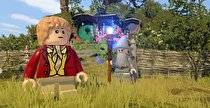 Bayonetta 2 hits the Wii U this week. April Fools! Oh wait, it's Easter, oh sorry.
---
Wii U
LEGO The Hobbit - $49.99, April 22
After being released on every other platform a few weeks back, LEGO The Hobbit hits the Wii U this week. Following the story of the Hobbit movies, based off of the book, you can explore the world of Middle Earth in its brickiest form yet.
---
Not much this week, but be sure to come by next week for more releases.