Don't forget your Hint Glasses when you go on your next big adventure.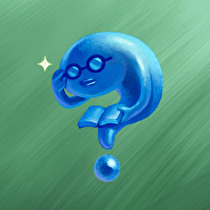 Early on in The Legend of Zelda: A Link Between Worlds, a fortune teller gives you the Hint Glasses. These weird, steampunk-looking specs are the game's version of Nintendo's Super Guide hints and it works in a fantastically underplayed manner. It's the least intrusive and easiest-to-access hint system Nintendo has done in recent memory.
The Hint Glasses are an item you can equip and wear. They darken the area around you and make the question-mark-shaped Hint Ghost appear near different puzzles. If you pay the friendly ghost in Play Coins, he'll then reveal a hint on how to solve the puzzle. Alternatively, you can visit the fortune teller (just outside of Kakariko Village) and ask how to access the different dungeons if you're stumped. The hints are very helpful if you need them. If you don't need or want them, then you can avoid it completely. It's ideal for a hint system.
The Super Guide first showed up in Zelda games in Ocarina of Time 3D as Visions. Available at Shiekah Stones, players could view short clips that gave a good hint as to what to do in certain situations. They were only available after you had reached the area. The process was clumsy, though. If you were stuck in a dungeon, you would have to leave the dungeon to go to a Shiekah Stone to access the Visions. The same process was used in Skyward Sword, though the only location to do this was in Skyloft. You could, however, get somewhat vaguer hints from Fi easily.
Unlike Fi, the hint glasses are completely optional. In my playthrough, I completely forgot about them until the second half. Even then, I only used them to check it out for this article. In the future, I hope more games feature a secondary hint system like the hint glasses in A Link Between Worlds. It's a wonderful crutch if you need it.