Bit.Trip Saga finally makes it to 3DS in Japan and Pikmin 3 looks to help save the Wii U.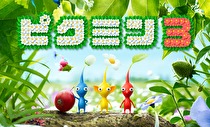 It's kind of a big week for the Wii U here in Japan. Pikmin 3 is taking center stage and releasing later this week. On top of that, the Bit.Trip Saga (3DS) makes an appearance on the eShop, as do Breath of Fire II, another Super Famicom Fire Emblem and more! Check out the information below to see the full line-up of releases for this week!
3DS
Downloadable Titles
KORG M01D (music workstation) - 3,000 yen
Zomgeri Bowling (Undead Bowling) - 700 yen
Zomgeri Bowling DEMO - FREE
Bit.Trip Saga - 1,500 yen
Maru Gōkaku! Gyōsei Shoshi Shiken (test prep software) - 2,800 yen
Youkai Watch (retail title) - 4,800 yen
Gyakuten Saiban 5 (Phoenix Wright: Ace Attorney - Dual Destinies) DEMO - FREE
Beast Saga Saikyō Gekitotsu Koroshimau! DEMO - FREE
Virtual Console
Esper Dream (Famicom) - 500 yen
Downtown Special: Kunio-kun no Jidaigeki Dayo Zenin Shūgō (Famicom) - 500 yen
Wii U
Downloadable Titles
Pikmin 3 (retail title) - 5,387 yen (from 7/13 until 7/19, then up to 5,985 yen)
Virtual Console
Fire Emblem: Thracia 776 (Super Famicom) - 900 yen
Breath of Fire II: Shimei no Ko (Super Famicom) - 800 yen
Donkey Kong (Famicom) - 30 yen (releases 7/15. Sale price until 8/13, then 500 yen)
Video Content
With a couple of big titles coming out this week and in the very near future, the eShop is littered with previews, gameplay videos and commercials. The recently released Bit.Trip.Saga on the 3DS eShop is featured prominently and has a short preview video showing off the styles of each of the six games in the compilation. A minute long preview video is also there, featuring gameplay from Bit.Trip.Runner. Perhaps Arc System Works (the publisher in Japan) and Gaijin Games are testing the waters to bring Runner 2 to Japan. Aside from the decent variety of Virtual Console titles, the Wii U eShop is definitely in desperate need of some good downloadable software!
Gameplay videos are available for all of the releases this week, as are preview videos for Mario and Donkey Kong: Minis on the Move, Lego City: Undercover (releasing in Japan on July 25), Fantasy Life Link, and Hoppe-chan Tsukute! Asonde! Punipuni Town!!. You can also view commercials for Lego City, Ace Attorney 5, Little Battler's Custom, Pikmin 3, and Youkai Watch.