This teddy bear is alive and wants to be your friend...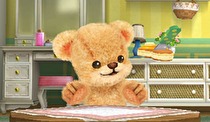 Aside from a possibliy demented teddy bear game (available as a demo this week), gamers in Japan can get some very Japanese Virtual Console titles this week coupled with some renowned classics and new downloadable titles. For a complete list, check out everything below:
3DS
Downloadable Titles
Swords and Soldiers 3D - 800 yen
Touch Battle Sensha 3D - 2 (Touch Battle Tank 2) - 500 yen
peakvox Cube Tactics - 800 yen
Maru Gōkaku! Tatsuken Shiken - 2,800 yen
Kuma Tomo DEMO - FREE
Virtual Console
Famicom Mukashi-banashi Shin Onigashima (zengohen) (Famicom) - 500 yen
Ganbare Goemon Gaiden Kieta Ōgon Kiseru (Famicom) - 500 yen
Wii U
Downloadable Titles
Rabids Land (retail title) - 4,200 yen
Virtual Console
Super Mario Bros. (Famicom) - 500 yen
Punch-Out!! (Famicom) - 500 yen
Video Content
Wow. It's been a while since this has happened, but I can honestly say that I'm a tad bit creeped out by the video preview this week for Kuma Tomo. The game is incredibly similar to Nintendogs, but all you have to do is replace the dogs (and cats) with a living teddy bear and you have this game, which can literally translate to "Bear Friend." One interesting thing that the game does differently from Nintendogs is that it allows your new "bear friend" to communicate its feelings with you via a semi-computerized, oddly cute, creepy voice. That's not all. This little guy "learns" more about you as you play the game and you can even keep advancing in your "friendship level" with this fuzz ball. As cute as this is, the whole dead, robotic voice made me feel a bit uncomfortable about playing this game, even though there's a free demo! At any rate, you can check out the video for Kuma Tomo below!
Aside from robotic bear friends, the eShop in Japan has some new videos as usual for all of the releases this week. Not only that, the entire Monster Hunter/Phoenix Wright Nintendo Direct is up on the eShop as are two streaming 3D preview videos for Monster Hunter 4, a different streaming 2D preview, a special twenty-minute video for the game, and a downloadable 3D trailer set for both games. New Super Luigi U also has a lengthy preview, Chari Sō DX has a new gameplay trailer showcasing a stage based in New Delhi, and Sayonar Umihara Kawase and Chōsoku Henkei Gyro-Zetta Arubarosu no Tsubasa (an upcoming 3DS game from Square Enix) also have preview trailers.