Who can say no to 30-yen Mother 2 and insect tanks?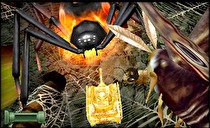 Spring is in the air and the eShop is in full bloom this week with a number of downloadables sprouting up. The update has arrived a day early in Japan, with the offices at NCL being closed tomorrow due to the national holiday, Shunbun no Hi (Vernal Equinox Day). While Mother 2 is definitely one of my most anticipated titles this week, there's still quite a bit of compelling software available. Here's a complete listing of all the cool stuff out this week digitally in Japan:
3DS
Downloadable Titles
Maru-go! 3D Nanami to Isshoni Manabo! English Jōtatsu no Kotsu Riron-hen - 2,800 yen
Maru-go! 3D Nanami to Isshoni Manabo! TOEIC Test Taisaku-hen – 2,800 yen
Mushikera Sensha (Insect Tank from Keiji Inafune for Guild02) – 800 yen
Lola no Sansū Densha (Lola's Math Train) - 400 yen
Luigi's Mansion 2 (retail title, 3/20) - 4,800 yen
Castlevania: Lords of Shadow - Sandame no Makyō (retail title) - 4,980 yen
Sengoku Musō Chronicles (Samurai Warrios: Chronicels, retail title) - 2,800 yen
Virtual Console
Sugoro-Quest Dice no Senshi-tachi (Suguro Quest: Warriors of Dice, Famicom) – 500 yen
Dragon Buster (Famicom) - 500 yen
Wii U
Downloadable Titles
Need for Speed Most Wanted U (retail title) - 6,615 yen
Virtual Console
Mother 2 : Giga no Gyakushu (Earthbound, Super Famicom) – 30 yen (from 3/20 to 4/18, then to 900 yen)
Video Content
There are a few new interesting videos on the eShop today. The video for Keiji Inafune's addition to the Guild02 compilation, Mushikera Sensha (Insect Tank), was definitely fun to watch. As many of you know, the game has players controlling miniature tanks and fighting against a variety of insects, including ants, moths, spiders, and more. The video highlighted the game's interesting presentation, which featured cut scenes with German voice acting while scanning over a World War II-ish German newspaper. The game's multi-card local play feature was shown off, with multiple tanks taking on huge bugs in a setting that resembled someone's backyard. The video also shows that it is possible to purchase tanks and upgrades to help you in your quest for victory over the your wriggly foes. While I haven't played the game yet, it looks to make tank combat a lot more fun than Kokuga, a tank fighter from the creators of Ikaruga.
Other than that, there was a new preview video for Dragon Quest X on Wii U, a short video informing owners of the Wii version of Dagon Quest X how they can get half off of the Wii U version, short gameplay videos for Lola no Sansū Densha and Crazy Chicken Pirates 3D (released last month), and new commercials for Game & Wario and Pretty Rhythm - My Deco-Rainbow Wedding.