Revelations goes digital, Goemon and Kunio-kun return, a wild "Happy Ocean" appears, and Wii Karaoke U is back in full force this week in Japan!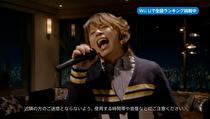 We have a surplus of software this week in Japan for the Nintendo 3DS, ranging from ocean viewing simulators to high school dodgeball club action games. Here's a complete list of the software that was released this week on the eShop in Japan:
3DS
Downloadable Titles
Azito 3D Osaka – 500 yen
@Simple DL Series Vol. 8 The Uwaki Kareshi - Uwaki no Daishō – 300 yen
Arc Style: Happy Ocean – 500 yen
Mansion Percussion – 500 yen
Pretty Rhythm - My Deco-Rainbow Wedding Demo – FREE
Doraemon Nobita no Himitsu Dōga Hakubutsukan (retail title) – 4,700 yen (from 03/07)
Biohazard: Revelations (Resident Evil: Revelations, retail title) - 4,990 yen (from 3/7 to 3/31, then 5,300 yen)
Virtual Console
Ganbare Goemon! Karakuri Dōchū (Famicom) – 500 yen
Nekketsu Kōkō Dodgeball-bu (Super Dodge Ball, Famicom) – 500 yen
Wii U
NA
Video Content
On top of the deluge of downloadable titles released this week on the eShop (for the 3DS, at any rate), there were also a handful of videos uploaded to keep people like me happy. One video I was surprised to see on the eShop featured Wii Karaoke U, the free karaoke application included with all Wii Us in Japan. This video features the Japanese singer and actor (who appeared in Gundam Seed Destiny as the voice of Heine Westenfluss) Takanori Nishikawa as he is belting out a song on the service while trying to get ranked highly in the nation-wide ranking system. The video also informs us that the Wii Karaoke U service now has over 100,000 songs on it, up from around 90,000 songs when the Wii U launched in Japan in early December. It's great to see that Nintendo isn't just letting this built-in feature fall by the wayside and is letting this video serve as a reminder.
Aside from the Wii Karaoke U love, around 30 minutes of video content is available on the eShop. This week's remaining videos include a nearly 10-minute long video preview for Super Robot Wars UX, a new preview for Professor Layton and the Azran Legacies, commercials for Luigi's Mansion: Dark Moon and Super Robot Wars, as well as gameplay footage for Nano Assault Neo, Mansion Percussion, Simple DL Series Vol. 8, Azito 3D Osaka, and Arc Style: Happy Ocean. Nintendo has even chosen to highlight some of the New Super Mario Bros. U Super Play videos again. Be sure to check one of them out below to see some crazy platforming skills!