Nintendo Direct is in the house, but there are also a few other cool releases this week!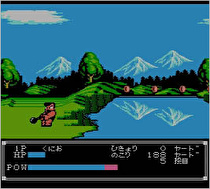 This past week has been dominated by the most recent Nintendo Direct, in which Nintendo unveiled a number of key software releases for the Wii U. Aside from that, the eShop is still alive and kicking. Here is what hit the eShop this week:
3DS
Downloadable Software
Speed X 3D – 400 yen
Virtual Console
Bikkuri Nekketsu Shin Kiroku! Harukanaru Kin Medal (Crash 'n the Boys: Street Challenge, Famicom) – 500 yen
Video Content
Well, unfortunately, there were no real releases on the Wii U this week, but that might have something to do with the amazing Nintendo Direct that rolled out this week. If you've been living in a rice field for the past week, check out our coverage of the event here or watch the Japanese version of the Direct in its entirety below. Nintendo also surprised 3DS eShop browsers on Friday night (January 25) with a surprise visit from floating head Iwata, announcing that the 3DS data transfer tool that was talked about last October is going to be hitting the eShop this March. For more information on that, be sure to check out our latest news story on it!
A couple of other videos made their way to the eShop, including footage of the Wii U Virtual Console version of Balloon Fight, as well as a special HD episode of Game Center CX featuring the game. Arino points out the dirty spot on the ceiling in the corner as they play the game on the show producer's Wii U. There are also preview videos for an upcoming pachinko/adventure game (if that's possible!), Pachi Para 3D Deluxe Umi Monogatari - Pachi Pro Fūun Rok Hana Kotō no Shōbu Shi Tachi (wow, that's a long name) and Speed X 3D.