HAL Pinball (non-Kirby related), Metal Max, and even top eShop lists from Nintendo hit the service today!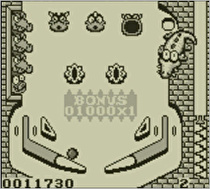 The eShop in Japan is still alive and kicking even after the reveal of Pokémon X and Pokémon Y yesterday. There are even a couple of new bits of software and video that are available on the eShop. Here's a breakdown of everything that appeared on the eShop this week:
3DS Virtual Console
Pinball 66-biki no Wani Dai Kōshin (Revenge of the 'Gator, Game Boy) – 400 yen
Metal Max (Famicom) – 500 yen
Video Content and General Comments
In case you've been living in a cave, or simply didn't have Internet access for the past day or so, you are well aware of the most recent Pokémon Direct that Nintendo unleashed on us yesterday. The Direct, which was broadcast worldwide, talked about the history of the Pokémon series and revealed the next titles in the series, Pokémon X and Pokémon Y for the Nintendo 3DS. This new game is receiving a complete overhaul visually, but still adheres to the Pokémon aesthetic pretty faithfully, drawing heavily from anime with its cel-shaded graphics. If you haven't checked out the video yet, it's available on the eShop in Japan or at the bottom of our news story.
There are a few videos for the latest 3DS Virtual Console titles, Revenge of the 'Gator and Metal Max. Metal Max is a Famicom RPG that was originally released in 1991. There is supposed to be a strong emphasis on vehicular combat,though the video showed the characters walking around and then fighting three very large ants. Looking at the video for Revenge of the 'Gator, on the other hand, it is pretty clear to see that this was an inspiration for Kirby's Pinball Land, which would be released a few years later. The theme of the game is simple—don't get your pinball eaten by the alligator. It looks visually on par with Kirby's Pinball Land and just as fun...I guess that depends on your definition of fun, right?
Last up, Nintendo compiled lists of the 25 most popular downloadable (retail, 3DS Downloads) and Virtual Console (3DS) titles on the Japanese eShop. This isn't limited to titles only released in 2012, but seems to be based on the eShop ratings. Below, you can find the top 10 for each category.
Top 10 2012 Downloadable Titles (Retail and 3DS Downloadable titles)
Tobidase Dōbutsu no Mori (Animal Crossing: New Leaf)
Pokémon AR Searcher
Denpa Ningen no RPG (The Denpa Men)
3D Classics Hoshi no Kirby: Yume no Izumi no Monogatari (3D Classics Kirby's Adventure)
Pokémon Zenkoku Zukn Pro (Pokédex 3D Pro)
Denpa Ningen no RPG 2 (The Denpa Men 2)
Ikimono Zukuri Crea-toy
Touch Battle Sensha 3D (Touch Battle Tank 3D)
Hiku Osu (Pushmo)
New Super Mario Bros. 2
Top 10 2012 Virtual Console (3DS)
Super Mario Bros (Famicom)
Hoshi no Kirby 2 (Kirby's Dream Land 2, Game Boy)
Super Mario Bros. 2 (Super Mario Bros.: The Lost Levels, Famicom)
Zelda no Densetsu: Yume o Miru Shima DX (The Legend of Zelda: Link's Awakening DX, Game Boy Color)
Super Mario Land 2: 6 (Mutsu) no Kinka (Super Mario Land 2: 6 Golden Coins, Game Boy)
Sonic & Tails 2 (Sonic the Hedgehog: Triple Trouble, Game Gear)
Donkey Kong (Game Boy)
Hoshi no Kirby (Kirby's Dream Land, Game Boy)
Kaeru no Tame ni Kane wa Naru (For the Frog the Bell Tolls, Game Boy)
Super Mario Land (Game Boy)