A handful of retail games turn downloadable, some classic Famicom titles appear, and there's even some more Mario DLC love this week.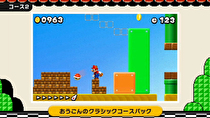 Keeping in line with the digital scene, several companies released digital versions of older games on the Nintendo 3DS eShop this week in Japan. Of course, big hitters like Layton vs Ace Attorney also make their way to the eShop, too! We even get an odd game about ending up being behind closed doors with your female tutor! Here is a complete list of everything available on the eShop this week:
3DS Downloadable Titles
Onna Katekiyōshi Itoka Sensei to Misshitsu ni Itara Shichau Kama shirenai – 800 yen
Crimson Shroud – 800 yen
Layton Kyōju vs Gyakuten Saiban (Layton vs Ace Attorney, 11/29) – 5,980 yen
Shifting World Shiro to Kuro no Meikyū (11/29) – 2,800 yen
Shin Sangoku Musō VS (11/29) – 5,400 yen
Poyo Poyo Kansatsu Nikki (11/29)– 2,800 yen
DLC
New Super Mario Bros. 2 Golden Classics Course Pack – FREE
Virtual Console
Super Mario USA (Super Mario Bros. 2) – 500 yen
Downtown Nekketsu Monogatari (River City Ransom, Famicom) – 500 yen
Video Content
With the Wii U launch just around the corner in Japan, there are a ton of new informational videos about upcoming Wii U titles, including videos for Tekken Tag Tournament 2, ZombiU, FIFA 13, Batman: Arkham City, Mass Effect 3, and even a commercial for Wii Karaoke U from Joysound and Nintendo. Rounding things off is a new streaming 3D video for Paper Mario: Sticker Star, showing off how fantastic the 3D can look in the game with gorgeous settings and characters flying towards the screen.
It's been a busy week, and with the Wii U about a week away here in Japan, eShop releases will get busier as well! Be sure to check out these articles weekly for your Japan eShop fix for both the 3DS and Wii U!