A few Chotto Nintendo Direct vids along with Mario Golf (GBC), Dig Dug and a falconry simulator make for a great week in downloads.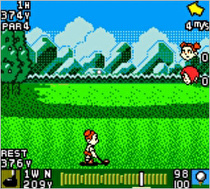 Not only are there some cool new Nintendo Direct videos up on the eShop this week, there are also a few great games to be had. Heck, you can even try your hand at falconry. Let's take a look at everything that's on the eShop this week in Japan:
3DS Downloadable Titles
Takagari Ō (Falconry King) – 700 yen
Wagamama Fashion Girls Mode Yokubari Sengen (Style Savvy: Trendsetters, full retail game) – 4,800 yen
Virtual Console
Mario Golf GB (Game Boy Color) – 600 yen
Dig Dug (Famicom) – 500 yen
DLC
New Super Mario Bros. 2 (3 Packs) – 200 yen each
Video Content
As many of you now know, NCL had another spur of the moment idea by having a few Chotto Nintendo Direct videos suddenly appear Wednesday morning in Japan. Both videos in their entirety, one focusing on 3DS LL hardware bundles and the other on retail card titles coming to the digital space, can be watched streaming on the eShop. To find out more information, be sure to check our stories on 3DS LL bundles and digital software in Japan.
Outside of the new Nintendo Direct videos, content is a little bit sparse. One commercial for Bravely Default: Flying Fairy and another for Project X Zone were added, attempting to build up hype for their release next week on October 11. Oddly enough, there is also a new video streaming in 3D on the eShop for Kid Icarus: Uprising, which focuses on Pit fighting with Hades.
Later this week on Friday, be sure to keep your eyes glued to NWR for more coverage of the Animal Crossing 3DS Nintendo Direct event.