Dragon Quest, Bravely Default, Fire Emblem and even Kunio-kun make an appearance this week in Japan!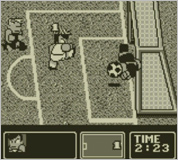 Quite a bit of stuff was released on the Nintendo 3DS eShop this week in Japan. Not only was this the first week for full retail games to appear on the eShop, there was also a Dragon Quest Event and a couple of other interesting pieces of software that were released this week. Let's take a look at everything in detail:
3DS Full Retail Downloads
New Super Mario Bros. 2 – 4,800 yen
Oni Training – 3,800 yen
3DS Downloadable Titles
Dasshutsu Adventure Kyū Kōsha no Shōjo – 700 yen
Bravely Default Demo Vol. 4 – Jobs and Abilities (DEMO) – FREE
Virtual Console
Nekketsu Kōkō Soccer-bu World Cup-hen (Game Boy) – 400 yen
Fire Emblem: Ankokuryū to Hikari no Ken (Famicom) – 500 yen
Video Content
In terms of variety, there was not a whole lot of different videos released this week on the eShop. Dragon Quest X Direct took place earlier this week, which of course means that the entire pre-recorded video is now available on the eShop. For the event itself (which I watched the minute it was released), there wasn't a whole lot of ground breaking information revealed. The video featured members of the Japanese development staff as they talked about things ranging from the character creation process, battles, and even showing off their in-game houses. Other Japanese developers who were involved with the beta testing of the game also chimed in as well. It looks like a great package and is sure to be something that fans will love. The video itself is over thirty minutes long and contains lots of never before seen footage. Be sure to check out the video below.
Other than the Dragon Quest X Direct video, there is one new commercial each for New Super Mario Bros. 2 and Oni Training.
Software Impressions
Of course, with the release of the latest Bravely Default demo, I downloaded it and will have a separate set of impressions up pretty soon. I'm not going to talk about that here, though. I decided to pick up the latest Kunio-kun title with this weeks release of Nekketsu Kōkō Soccer-bu World Cup-hen, or Nekketsu High School Soccer Club World Cup. This week's title is the sixth Kunio-kun related title to be released on the 3DS Virtual Console in Japan. Originally coming out in 1991 on the Game Boy, it's your job to lead Kunio-kun and his soccer club against twelve of the best teams in the world to victory.
The controls in the game are simple on the surface but have quite a bit of depth to them. I'm probably about the furthest thing away from a soccer expert, but even I can see that apart from the simple passes executed with the A button, or tackles and shots done by pressing B, there are a number of different button combinations that you can try for more complicated tactics. For example, there are different headers and shots that you can pull off if you know what you're doing. Overall, the controls are pretty solid and make for a pretty good soccer experience.
Graphically, Soccer Club World Cup isn't going to blow you away, but what it has is good enough for a Game Boy soccer title. I was surprised by to find that the game even gives you the chance to choose on-field position for your characters before the game, which could add an element of strategy if you know what you're doing (and I don't!). For those of you outside of Japan, it's a pity that you will probably never get a chance to play this game. It's a fun game that is easy to pick up and play if you have a little bit of free time.