The second Bravely Default demo is here!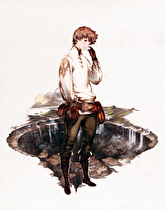 This week another demo came to the eShop, as well as a few other interesting additions. Here's what arrived:
3DS Downloadable Titles
Bravely Default Demo: Volume 2 – FREE
Video Content
The love for Fire Emblem continues, as Nintendo added a nearly six-minute long video going over different gameplay elements for Fire Emblem Kakusei. The video highlights character and weapon growth systems found within the game. Other than that, the second part of the 3D photo contest in Japan has come to a close here in Japan. The theme was "rare/unusual regional things." You can take a look at these pictures in 3D if you follow this link on your 3DS.
Software Impressions

This week, I downloaded the latest demo for Bravely Default, which is titled Bravely Default: Flying Fairy Demo Vol 2.: Heroes of Despair Volume. After being somewhat disappointed with the demo from Tokyo Game Show last year and the demo released back in late February, the latest entry from Square Enix gives a better picture of what to expect from the final game and provides a lot more to do this time around. Please feel free to check out my full set of impressions for the latest demo here.