The Virtual Console and video content are still going strong in Japan.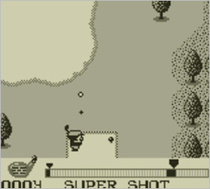 Things are continually busy on the eShop in Japan. Not only is the streaming video content coming on a daily basis, Nintendo and their partners are still delivering downloadable titles as well. Here is a look at what Japanese gamers can pick up this week:
3DS Downloadable Titles
@Simple DL Series Volume 1: The Misshitsu kara no Dassuhatsu Fushigi na Kummadonaru Burger hen – 500 yen
Labi Labi Gaiden Witches Cat – 700 yen
Virtual Console
Golf – 300 yen
Red Arremer Makaimura Gaiden (Gargoyle's Quest in NA and Europe) – 400 yen
Video Content
The video content is still coming daily to 3DS owners in Japan. The SpotPass TV delivers the grouping of shows sometime in the early morning and hasn't skipped a beat yet. The shows sometimes continue from the previous episode, so missing an episode will leave you slightly lost. For example, one show features two magicians who are doing simple tricks that are interesting and leave you wondering how they do it. One episode features them doing the trick and then the next episode shows an explanation how they did it. It's not going to blow your mind, but it is interesting and I can see school children or children at heart enjoy trying to do these tricks to unsuspecting friends.
This week, Nintendo released a new 47 second streaming 3D video clip for the upcoming Star Fox 64 3D. The video contains gameplay footage of various levels throughout the game. Nintendo is also featuring Nintendogs + Cats this week on the eShop. No new content was added, however, all of the Nintendogs video content is conveniently placed onto one page for interested gamers.
Software Impressions
I seem to be putting myself a week behind with the Virtual Console releases. Again, I have yet to pick up any of this weeks offerings, but I did manage to pick up the Game Boy Gallery (Game and Watch Gallery) and Baseball. While not much really can be said about Baseball, I was pretty amazed at the Game Boy Gallery. Released in 1997, the game is visually one of the best titles on the original Game Boy. There are four separate games that are Game and Watch-like in nature and are pretty entertaining.
With all of the Virtual Console games that are available on the Japan eShop, it is a bit troublesome to track down titles that were released more than two weeks ago. That means that all of the games released during the first week of the eShop have to manually searched for if you want to find them. Also, unlike the Wii Shop Channel where there is section of the store dedicated solely to Virtual Console games, the eShop does not have this yet. It is a minor complaint for an online shop that is leagues ahead of it's predecessors, but annoying nonetheless.