Method gaming is real.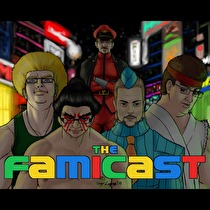 Subscribe via iTunes (Please rate and review, too!)
The Famicast is down a member this episode (RIP Sairus), but Danny, JC and Ty make things work and press on to bring you the latest and greatest from Japan.
Per usual, the show kicks off with New Business as the guys talk about Star Wars: Bounty Hunter (and discuss how Ty has a connection to the game), Axiom Verge, Yoshi's Woolly World, GTA V, anime boob games and how method gaming is indeed real.
For this episode, the crew also tackle a heap of news ranging from the latest Fire Emblem Nintendo Direct, Pokémon Go revenue, all of the latest Switch related news and much more. Shortly after, JC presents us with some Switch related quotes from all over the industry. Is Reggie nearly as bad as JC thinks? You be the judge, jury and/or executioner.
As always, thanks for listening to the show! If you have any comments or questions, be sure to sound off in the Talkback below, hit us up on Twitter (@thefamicast) or send an email to famicast@nintendoworldreport.com. We hope your 2017 has gotten off to a great start! Let's enjoy some vidja games!
This podcast was edited by Danny Bivens.
Music for this episode of The Famicast is used with permission from 8 Bit Weapon. You can purchase their music and shirts from their website 8bitweapon.com
Additional music for this episode of The Famicast is copyrighted to Nintendo, and is included under fair use protection.
The artwork for the show was designed by Tony Losoya, follow him on Twitter @Tony_Losoya