Captain Toad, the Donkey Kongs, Fake or Real, Life in Japan, all served with a side order of Nuts and Milk!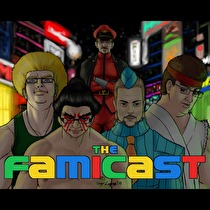 Subscribe via iTunes (Please rate and review, too!)
Cue the lights, it's time for the November studio episode of the Famicast! Hopefully you guys enjoyed the last episode, either in audio or video form, if you missed it live this time keep your eyes and/or RSS feeds peeled for the next one!
But enough about that, on to this episode! Danny talks about the end game of Captain Toad (spoiler free). Find out if he thinks it was worth the cash. JC goes next with an extended story about how he finally acquired a WiiU for a suspiciously low price. Ty then talks about his time with Trend Setter: Girl's Mode - the fashion simulator for girls! One part of that is fake, or is it real?
An extended news segment discusses the rather awesome VC releases in Japan, including four Donkey Kong games! Lots of side-topics come out of the segment including the state of the Japanese music industry, comics, and Danny buying every piece of Theatrhythm DLC.
Next up is the regular (and world famous) segment of Fake or Real, now complete with its own theme song provided by listener Perry Burkum! Mr. Catdrugs takes it away with his game show where everyone tries to guess if the crazy sounding game is, well, you get the idea by now. Frogs and barf are mentioned, naturally.
The show wraps up with your listener feedback; we had some great Life in Japan questions, and some….questionable ones too. We also had our first iTunes review since going solo. Give us one and we'll read it out on the show, too!
Famicast a go-go baby!
This podcast was edited by Danny Bivens.
Music for this episode of The Famicast is used with permission from 8 Bit Weapon. You can purchase their music and shirts from their website 8bitweapon.com
Additional music for this episode of The Famicast is copyrighted to Nintendo, and is included under fair use protection.