When PlayStation and Nintendo clash with one another, you get the 21st episode of your favorite Pod from Japan... Something like that.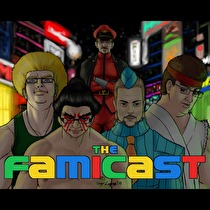 Subscribe via iTunes (Please rate and review, too!)
The Famicast train keeps on trucking as we move on to February and experience a slow month in games for once. That doesn't stop the crew though, as the full regular crew discusses some fun stuff.
Our overlord Danny kicks New Business off with Dragon Quest VII. The good sir has barely experienced Dragon Quest in the past, but goes knees deep in this new Nintendo 3DS remake. He talks about his experiences and wonders why he hasn't tried one before. Also, he talks about Layton chocolates, because that is a real thing in Japan. Ty got a motherload of English Xbox 360 games and the first game he sank some time into was Spec Ops: The Line. The game may sound like a generic first person shooter, but after talking about it, some of us certainly got interested in a copy. After that, the master of swag talks about the Japanese release of Skullgirls, which got him all kinds of excited! Finally, Ty wraps things up with some talk on Skulls of the Shulgon and discovers that it isn't quite so easy.
Minoru kicks in right after Ty and talks about a whole different kind of hard. He has been playing Demon's Souls, which has been released quite a while ago. He talks about the various aspects quite in-depth and explains what keeps him coming back for more. Daan finished the whole trainwreck off with the English release of Fire Emblem: Awakening. He gushes over the game once again and gives the game the strongest recommendation possible. It is truly something else! In terms of ''New'' Business though, the Dutch guy has been playing Culdcept for the 3DS and has been surprisingly enjoying it. With words like Monopoly boards, monsters and card games, he hopes to get some people excited and perhaps he will! You will just have to listen to find out!
After a short break, the crew goes through quite a lot of news and start things with the latest Media Create sales figures. Instead of gushing over the 3DS success, they have a brief discussion about the Wii U and what should be done to turn it around. Speaking of Nintendo, they talk about the recent Nintendo Direct conferences, which has been mostly 3DS focused. They talked about Luigi Special briefly, however more discussions are to follow with the third party Direct.
This Famicast goes into a big finale, as we talk about the PlayStation Meeting 2013. We go over the various announcements, our thoughts on the hardware and what we expect of it in the months to come. There is a whole chunk of Pod to enjoy, so we will shut up and let you listen. Fun drinking game: Take a shot every time Danny says something wrong!
Be sure to send any and all questions Japan related to famicast@nintendoworldreport.com or post on the "Questions for the NWR Japan Crew Thread."
This podcast was edited by Danny Bivens.

Music for this episode of The Famicast is used with permission from 8 Bit Weapon. You can purchase their music and shirts from their website 8bitweapon.com

Additional music for this episode of The Famicast is copyrighted to Nintendo, and is included under fair use protection.