Still a man down, the remaining Famicast crew record from right inside Super Potato, Akihabara!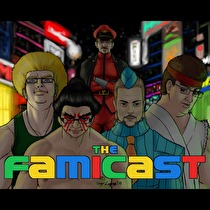 Subscribe via iTunes (Please rate and review, too!)
James Charlton and Danny Bivens meet up in real life to record a very special Famicast, "live" from inside retro gaming nirvana itself - Super Potato in downtown Akihabara!
New business starts with James' story of how he finally got his 3DS and became a last minute Ambassador, while Danny updates us on Starfox 64 3D and Pitman/Catrap.
News focusses on the first paid demo on the eShop, Dragon Quest X and used 3DS sales in Japan. (of which James had just contributed to!)
Listener mail has the usual mix of random Japanese customs, game culture and schoolgirl underpants - everything you'd expect from a podcast recorded in Japan!
To mix things up a bit, with each segment of the show, the crew changes to a new floor of the store, which changes the music from the various old school games playing in the background!
For a bit of added fun, see if you can guess the games you hear being played in Super Potato and/or the 8 bit tunes added into every show - no prizes, but I bet Radio Trivia fans will have fun!
If you have any questions or comments for the Japan crew, stop by our forum thread or email us directly. We will try to answer all of your questions, with the best questions appearing on the show!
This podcast was edited by Danny Bivens.
Music for this episode of The Famicast is used with permission from 8 Bit Weapon. You can purchase their music and shirts from their website 8bitweapon.com
Additional music for this episode of The Famicast is copyrighted to Nintendo, and is included under fair use protection.