Two-thirds of the Famicast return for an update on the Japanese gaming landscape.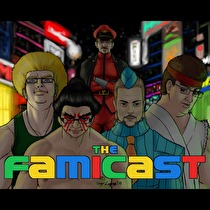 Subscribe via iTunes (Please rate and review, too!)
James Charlton and Danny Bivens team up to deliver the third episode of the Famicast. Being a man down for this episode (Japan Correspondent, Matt Walker, was unable to join), the crew puts together a slightly shorter episode than usual. Nevertheless, it's still Famicast a go-go as the guys bring you the latest from the Land of the Rising Sun. Danny and James share what they have been playing lately, including the newly released Star Fox 64 3D. James also explains about a new "game" that he picked up a few months ago that has kept him busy for nearly the past three months.
Next, the crew discusses the Play for Japan soundtrack, a charity album for earthquake relief in Japan containing tunes from some of the most famous musicians in the world of gaming, which was released this month. Listen to find out where you can purchase this awesome compilation! Danny and James also go through the recent and upcoming releases on Nintendo platforms before closing the show by answering your listener mail, with topics ranging anywhere from bottle caps, capsule hotels, poop, and the state of PC gaming in Japan.
If you have any questions or comments for the Japan crew, stop by our forum thread or email us directly. We will try to answer all of your questions, with the best questions appearing on the show!
This podcast was edited by Danny Bivens.
Music for this episode of The Famicast is used with permission from 8 Bit Weapon. You can purchase their music and shirts from their website 8bitweapon.com
Additional music for this episode of The Famicast is copyrighted to Nintendo, and is included under fair use protection.