Also known as Xenoblade Chronicles: The Chronicles. Will this game ever be released?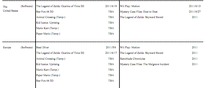 Recently there has been widespread uproar relating to the absent North American release of Xenoblade, following the confirmation of the European release in September this year. The game was released in Japan as Xenoblade on June 10, 2010. It is Monolith Soft's second game under Nintendo, the first being Disaster: Day of Crisis. In fact, they became a first-party Nintendo developer shortly before Disaster's Japanese release. Monolith Soft were also responsible for the Baten Kaitos series on GameCube.
The European status of the game is clear. The game was confirmed by Nintendo of Europe on March 31 in an unusually abrupt press release, revealing that Xenoblade Chronicles would launch later in 2011 with English and Japanese voice-overs and full English, French, Italian, German, and Spanish subtitles. Later on there was a contest on the game's microsite to vote for the alternative cover art for the inside sleeve of the box. The microsite also has the translated Iwata Asks for Xenoblade and the Japanese trailer.
The North American situation, though, is not so straightforward. Suspicion arose when the game disappeared from Nintendo's release list in the annex documents from the investor's financial briefing for fiscal year 2010. On April 26, the documents showed Xenoblade Chronicles with a European release in 2011, but no entry for the game at all in the listing for the United States. This was in contrast to the financial briefing results for the third quarter 2010, where it was listed as Monado: Beginning of the World (Temp) with a TBA release date for the US, and unlisted for Europe. You can check back as far as you like on Nintendo's publicly available investor's releases, all in English, Monado was first listed as a future Wii release for the US since March 2010.

Q3 2010 release schedule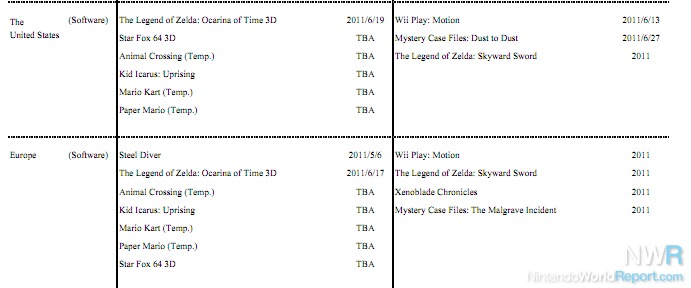 April 2011 release schedule


Come E3, the game was not on the Wii release schedule. The game had already been demonstrated at the London MCM Expo at the end of May 2011. Nintendo of Europe wanted to show the game again at E3, but as Nintendo of America do not display games that they are not going to sell, the game never made an appearance. To us, this was solid confirmation that the game was not coming to North America, despite the lack of official word from NoA.
Monolith Soft's first Wii game met a situation not unlike this one. Disaster: Day of Crisis was localised and released in Europe, but Nintendo of America did not have any interest in releasing the game. NoA president Reggie Fils-Aime in particular has expressed a dislike of the game, calling the audio work "laughable" and saying that basically it is not worth $50. He went on to say that if the game performed very well in Europe, a US release would be considered. Otherwise, there would be no chance. Would a North American release for Xenoblade be contingent on European sales success, or is this a different case?
Disaster had a mixed critical reception following the release in Japan and Europe. Media Create charts show that it sold 14,310 copies in the first week of release. It is difficult to determine European sales, as there is no chart tracking for all countries, but Disaster failed to appear in the UK charts in the weeks following the release date.
Why do Nintendo of America have no interest in releasing these core games to begin with? That's simple to answer, disappointing sales. It comes purely down to cost, and it's not worth the expense of publishing a game that is not going to sell well, and in terms of Nintendo's first party games, if it's not at least a million seller, it's disappointing. Sales for Metroid: Other M started at a very slow pace and if the audience for core games that are not marketable to the "Wii Sports families" is so small, then it is not profitable enough for these games to be released.
Reports have been posted that Nintendo's customer services have confirmed the game's release. We called them to find out what the situation was, and the representative who answered could only offer, "the game has been announced, but there is no release date listed for the title." While Nintendo's game counsellors are amicable, they only have whatever information is at hand. The announcement referred to could simply be the one made in March 2010. A game release that's in contention is not going to be made official by telling no one but their customer service callers.
If Xenoblade is a runaway success in Europe, then undoubtedly Nintendo of America will have to consider a US release. The same could be said for The Last Story, with a recently confirmed European release, and all of the other games that we are waiting for. It might be that Nintendo will re-evaluate publishing effort for these games to fill gaps in the release schedule now that developers are working on Wii U. After all, they have said exactly the same in regards to DS localisation.
And, while fan petitions have done little in the past for games such as Mother 3, Nintendo might have recognised recent efforts in a tweet promising "more updates to come soon", but this is so vague it could refer to anything.
Each game is different. For Mother 3, maybe it was too much of a translation effort. For Disaster: Day of Crisis, it just wasn't commercially successful enough. Maybe Fatal Frame IV is too violent to be appealing to the masses, and Another Code R was just not interesting enough. Judging by past games, a US release for Xenoblade is unlikely, but maybe this time it will be different.