If you've preordered your 3DS console through Amazon, you've just made $25.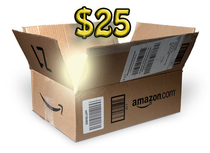 Amazon has announced that they will provide a $25 promotional credit complimentary with any 3DS preorders placed until the system launch. Additionally, this offer will be extended to any orders that have already been placed. Once the order ships out, a confirmation email will be sent within 2 days, and the store credit can be used towards any of the 18 listed launch titles.
Amazon is also offering $10 credit on those 3DS titles with the preorder of a 3DS game. This offer is limited to one per person.
Currently these offers are only available on the US Amazon.com. Promotion details are here.