Get free stuff just for following us!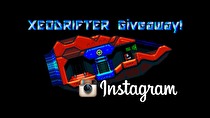 The Nintendo World Report Instagram is back and better than ever! To celebrate, we're giving away five copies of Xeodrifter. All you have to do is head on over to our Instagram page and follow us. That's it! Even if you don't win, your Instagram feed will thank you for the glorious, Nintendo themed posts that will grace it on a daily basis.
Winners will be announced on Sunday, August 2.