Aussie readers: get your creativity charged up and score some Pokéswag!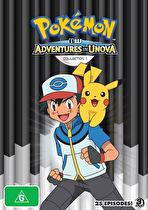 Hey there Aussie Pokéfans! Thanks to the awesome guys at Beyond Home Entertainment, we once again have some great Pokémon prizes to give away.
We have five copies of the new Pokémon Black and White: Adventures in Unova Collection 1 to hand out to the most creative fans we can find. The action heats up in these DVDs as Ash begins the intense trials of his Unova League championship challenge.
As if these awesome DVDs weren't enough, our pals at Nintendo Australia have thrown in five Pokémon X and Y t-shirts to sweeten the deal!
To enter, all you need to do is send us something creative and Pokémon-related before the contest closes.
What kind of creative thing, you ask?
It could be anything! Send us your fan art, a photo of your favourite Pokémon plush toy, a picture of yourself in Pokémon cosplay, a comic, a flash animation or even a video! I'm looking for something cute, funny, clever or entertaining.
If you want to check out the latest DVD season of Pokémon while rockin' your awesome new t-shirt, get those entries in to contest@nintendoworldreport.com.
In the meantime, you can check out Beyond's website here.
Be quick! Entries close on February 14, 2014. For the nitty-gritty details and instructions, check out the rules below.
RULES:
1. To enter, send us an email at contest(at)nintendoworldreport.com and include a picture or video of anything Pokémon related. It could be something cute, funny, clever or entertaining. A drawing, a picture of your plush toy collection, a cosplay photo, a snapshot of something strange in one of your games, anything! Please ensure videos are less than 40 seconds in length.
2. Entries containing adult material or profanities will not be considered for prizes.
3. The contest is open to our Australian and New Zealand readers only.
4. Be quick! Deadline for entries is Friday February 14th, 2014, midnight AU EST.
5. Winners will be contacted via email before the end of Monday, February 17th (so we have time to judge the entries), and must respond with postage instructions within 48 hours to claim the prize.
6. The winners are chosen at the discretion of the judges and are not open for review.
7. The prize for the (five) best entries is one (1) set of Pokémon BW: Adventures in Unova Collection 1, AND one (1) Pokémon XY t-shirt. Sizes are subject to availability.
8. All entries become property of Nintendo World Report to use without permission. Entries may be submitted to Beyond Home Entertainment for display on their website as seen fit. Video entries may be uploaded wholly or in part to NWR's YouTube account for promotional purposes.
9. Nintendo World Report reserves the right to change the rules at any time, without advance notice.
Special thanks to Beyond Home Entertainment and Nintendo Australia