UPDATE: The winners are known!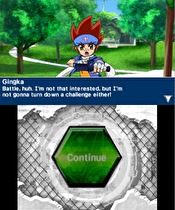 UPDATE: The competition is now closed. The winners are Juan Fran Barba Salado and Kevin Tucker. There should be a mail waiting for you!
BEYBLADE: Evolution is now available in Europe and players all across the world are able to become the very best. You can collect various components to make the Beyblade you want and even costumize them further with the Beypedia. Players can duke it out against a variety of computer opponents and battle against friends in local multiplayer. You can find more information on the game here.
Rising Star Games is giving two NWR readers a chance to enter the battle arena and give this new entry in the franchise a go. What do you need to do? Shoot us an email at contest(at)nintendoworldreport.com and give us an answer to the following question:
Which exclusive Beyblade comes with the physical copy of the game?

Here are the rules and instructions, so that you know all the criteria:
1. To enter, send us the answer of the question above to contest(at)nintendoworldreport.com with "Beyblade contest" in the subject line.
2. The contest is open to our European readers only.
3. Be quick! The deadline to enter is Sunday, the 19th of January at 22:59 GMT/23:59 CET.
4. Winners will be contacted via email on the 20th of January and must respond as soon as they possibly can. You have one week to respond before the prize will be raffled off.
5. The prize for the two chosen entries is one download code each to download BEYBLADE: Evolution from the Nintendo eShop on Nintendo 3DS.
6. Nintendo World Report reserves the right to change the rules at any time, without advance notice.
Thank you for your attention and interest. As a true Beyblader would say: ''Let it rip!''