Not everything is good with Europe's finest gaming mecca.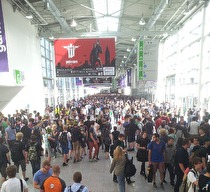 Gamescom is a terrain that has no limits, where every publisher can build what they desire. The Gamescom booths are used to show the plethora of games coming to the various platforms and visitors and press alike use these opportunities to the fullest. From an outside perspective, everything seems fine with Cologne's fest of everything gaming. However, when you start zooming in and begin picking things apart piece by piece, you will notice that some things come apart rather quickly. Europe's own convention has become bloated and forgotten some of the more common decencies it affords its guests. Gamescom has become the downfall of its own success and it would be better if they thought things more through.
Let us begin by looking at things from the perspective of the press. Outside of E3, this is the second best chance for the worldwide press to experience games first hand. Gamescom offers a dedicated business area, so that they can meet up with companies and talk with them about everything related to their games. The actual coverage might go as well as you'd expect, but there are still many slippery slopes along the way. To put the coverage out there to your audience, a 20-minute walk to the press hall at the north entrance is required. A few trips might not be bad, but after doing it so many times, it actually becomes quite a chore. The business side and working stations are at completely other sides of the Messe, which is quite counterproductive if you want to get work done between appointments.
Getting there is another thing altogether, as you go through one gigantic hallway. This passes by every single public conference hall, which is where another problem arises. I don't hate on the visitors of gaming conventions, but they are there for leisure. People like me are usually more focused on time and getting from point A to point B. Going through this hallway, with the many people that Gamescom attracted this year, was pretty irritating and it made it take longer to get your destination. You might think about getting work done in the business areas, but be aware that you need to find a decent spot. Wi-Fi is pretty inconsistent and the only way I got words out at some point was because of an easy password on the one from GDC.
I also feel that one press day is not enough to get all the important work done on time. Tokyo Game Show has had two for the longest time and that is perfect to get everything done. Some games only are available in the public areas and this would give more journalists/bloggers the time to check all the games out. Personally I would love to get more work done on the first two days and have a writing day on the third. These are a few issues that I think the organization of Gamescom needs to look at and I reckon that other bloggers/journalists have some more.
Dale North of Destructoid told me something that is impressive and I kind of hope the people will consider. The E3 staff always invites a few professionals to talk about some of their irritations and looks into in what could potentially be changed. Cologne doesn't have such of an interest in changing its ways, despite the fact that it would actually be better if they did. Gamescom cheers about its general success and how everything went well for them in the past few years. On the other hand, they had to close the gates for some ticketholders and big crowds hurt the younger ones.
This brings us to the public perspective, which I had a bigger firsthand experience in with Gary Blower of Gameburst fame. He told me that he wouldn't come this year, because of his bad experiences last year, but he came again out of pure interest in games. Gary comes from the United Kingdom, so he travels quite a bit to get here and tries to experience as much as possible in one day. I was there with him for the most of the day and the results were kind of a shock to the senses. The worst offender was Sony, who threw their biggest games in packs with one another. If you wanted to play Resogun, Skylanders, Knack or Driveclub, you were expected to wait for roughly four and a half hours. Microsoft was generally less crowded and they handled their large titles with the more respect. There were proper booths set up for Forza, Killer Instinct and all of their other top tier Xbox One titles, which was kind of surprising to see.
Nintendo had massive lines for Pokémon X/Y and Super Mario 3D World, which surrounded the entire booth in madness. The bad thing about it all is that games in the middle of the booth barely got any attention. Most notable was Sonic Lost World, which is a game I massively respect after playing three builds of it. The problem was there were barely any people waiting for it in line, and sometimes the demo station was not even used. Most of the people wouldn't go inside the booth, because the stuff they want foremost was outside of it. Even Mario & Sonic had a longer line, which is because it was viewable from a glance by outsiders. I was so massively mad, as I care about that game very much and would have liked to cover it in any way I could. Gary didn't think of it much beforehand, but when he played it, he saw the inventiveness of the title and said he was even putting it up for pre-order!
The other publishing parties had it all set up in their own manners and, depending on their software on display, they had it mostly setup like Microsoft or Nintendo. Another thing that irked me in all of this was how little crowd control there was. Demos were played multiple times by some and usually most of the staff would shrug it off. The only company keeping full track of this was Nintendo, who had a full guiding force next to the various titles. Getting to play some games was almost like a Wild West shoot-out, as we tried barely half a level of Rayman Legends on the Microsoft stand. The people behind us were already asking if they could play, while the people before us played through all three or four stages. At the end of the day, Gary only played a handful of games, noting Sonic as his favorite.
But is traveling so far for just a few games really worth it? I don't think that it really is, in the grand scheme of things. While Gamescom celebrates with their record number of attendees, I would actually suggest they strip it down a little bit. Just go ahead and make the tickets a bit more expensive and allow less people to enter Gamescom as a whole. This would make the experience such a bigger joy for people and would allow them to see more in a single day. Most people are there just for a few specific things anyway, and this could open up the room for a new batch of people to see what the stands have on offer. To make these impactful changes however, would require flipping the tables on what Gamescom has become right now. I am not sure that I like it, but maybe that is just the reality of the situation.
Gamescom has not fully achieved everything it could and there are still many good things to say about the convention. Bringing Europe closer to one another in such a way is impressive and certainly nothing short of an amazing accomplishment. The amount of companies that are brought together makes the entire experience varied and there is plenty to find for lovers of console, handheld or PC gaming. That being said, I just wish that they would learn their lessons from the events of the last few years. There is nothing wrong with wanting to be loved more and their ambitions are certainly not misplaced, but everything needs to be thought through more. Only then can Gamescom become the titan it wants to become and stay there for many, many years to come.