A neglected handheld does not make a happy Neal, but this Wii U thing could work.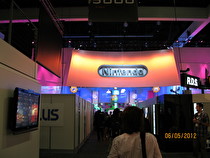 "To view a new installment of Nintendo Direct, which will provide updates about future Wii U games, visit http://www.nintendo.com/nintendo-direct on June 11 at 7 a.m. PT."
With that announcement, Nintendo confirmed to me that E3 2013 will be the Wii U show (part deux). We'll get our token 3DS mention, likely in the form of the recently announced Pokémon X/Y presentation, but for the purposes of what will physically be on the show floor, I expect Wii U, Wii U, and more Wii U.
That's not terrible, in the grand scheme of things. 3DS essentially had its "E3" last month, when Nintendo adopted the same format they will at E3 with a Nintendo Direct followed by a software showcase with a focus on 3DS titles such as Mario & Luigi: Dream Team, The Legend of Zelda, Animal Crossing: New Leaf, and more.
Nintendo's booth size is, according to the E3 floor plan, essentially the same it was last year, when their booth was made up of Wii Us with a few Mario and Luigi-hatted women with some 3DS systems attached to them. Don't get me wrong; I'm excited to see the blowout for the new 3D Mario, Mario Kart Wii U, and Super Smash Bros. It should be pretty wild and potentially a lot more impressive than last year's lineup. Of course, that blowout could be surrounded by games that were at last year's E3, such as Pikmin 3 and The Wonderful 101, which would be a little less exciting.
Even with the excitement of these new Wii U titles, I am personally bummed out about the seeming lack of 3DS focus at E3 2013, especially after last year's lack of 3DS focus. I love that system. However, it is important for Nintendo to show us why we should love the Wii U.
Nintendo's move to cancel their press conference was seen by many as a sign of weakness; a white flag waved towards the PlayStation 4 and Xbox One. As we get closer and plans are being fully revealed, I don't think that's the case. I see Nintendo using this plan to go for the jugular the only way they know how: by doing it in a special, sort-of weird way.
Nintendo Directs and other presentations will be numerous, even if it might not reach the same numbers it did on G4 and Spike TV. Nintendo is going to cut the losses on what was an underwhelming and borderline disastrous presentation last year. The plan seems to be to double down on the Wii U by presenting a variety of (hopefully good) games in the manner that has been successful for the company and their fans.
Will it reach the wider audience? Who knows. Maybe a reinvention of Wii Sports and Wii Fit will be the play towards that audience. That's all important, but I'd rather see Nintendo make me (as a Nintendo gamer) happy before the focus is on making everyone else happy.