What should I pick? 999, Advance Wars: Days of Ruin, Dragon Quest VI, Radiant Historia, or The World Ends With You.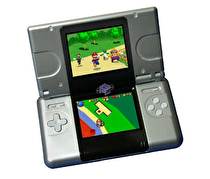 We're at a lull in video games this year, and my current backlog is almost caught up (I still need to finish Miracle Mask). That means, I've got a few weeks before Donkey Kong Country Returns 3D. I might be able to attack a game on my fabled DS backlog that has been nearly untouched since last summer.
The contestants?
999 - I bought this game last year around when Virtue's Last Reward came out. I think I opened it, but that's it.
Advance Wars: Days of Ruin - Got it cheap earlier in the year. Enjoyed the first DS game and the GBA games. The only localized version of the series I haven't played.
Dragon Quest VI - I loved Dragon Quest IV and V, but after getting this game on a Target clearance rack, I've never plunked down the time to play it.
Radiant Historia - The only game from this list I've put notable time into. It was a victim of the pre-3DS launch and my NWR duties. I was halfway through it, but intended to replay it from the beginning since it has been two years.
The World Ends With You - I borrowed this from a friend for a weekend and really disliked it back when it came out. However, some NWR staffers convinced me I should give it another try. My untouched copy has said otherwise.
Go vote in the forums and persuade me to play one of these five games in the beginning of May.