If only games could help us learn.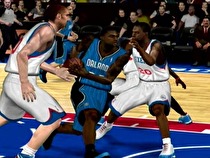 I have a long and storied video game basketball career. NBA Live 96 was my main addiction; I had several 84-game seasons notched in my belt. NBA Jam was another piece of my baller career, including a brief stint in a Blockbuster Video tournament. What I'm trying to say is I really should be better at video game basketball than I am today. When I picked up NBA 2K12 for review last year, however, I found that in my time away from the game, I had gotten very, very rusty.
For one, I found that in order to succeed at video game basketball, you need to have a solid understanding of offensive and defensive theory. Like with most modern sports simulations, you need to know the game to succeed at the digital adaptation. To me, calling plays in basketball was always more of a myth than a reality. I mean, everyone's played basketball in the driveway, and it rarely involved attacking the 2-3 zone or running the baseline. I have no idea what those terms mean.
With the NBA games of yesterday, you didn't need to know this stuff any more than you needed to know how to run the zone-read to play Tecmo Bowl. Sports games have embraced the niche, and left behind the rest of us.
This doesn't have to be the case. A basketball simulation video game is actually the perfect place to teach the player how to play basketball. In fact, modern-day sports games don't do well (when they do at all) in teaching you the theory behind how to play the sport. How well the controls work doesn't matter if you have no idea what you're doing once you're comfortable with them.
In a week or so, I'll sit down to review NBA 2K13, and I expect a situation similar to last year—I'll have no idea what I'm doing, and hope for the best. Sports games need to get better at this; especially those on Wii clearly aimed at a family audience. Madden Wii, for example, does a great job of letting everyone play even if they don't understand how to play the game of football.
While NBA 2K12 added a ton of features and multiple takes on the campaign mode, it had a poor learning curve; in order to play any of those features you had to bang your head against the wall and try to understand why all your shots got blocked.
Maybe I'm just a noob; I'm sure serious sports gamers want anything but the watering down of these games for the average consumers. Most likely, companies like EA and 2K won't make any major changes until warranted by the sales. That said, it's time for someone to rethink the way the sports simulation works. Let me learn the theory behind coaching, the way the plays are supposed to work. If, as a game developer, you want me to come to your sports sims already educated in the Xs and Os, then teach me them.
In the meantime, I'll keep playing NBA 2K on the easiest mode offered so I can at least keep the games competitive.