I guess you gotta start somewhere.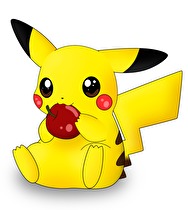 It was not until I saw a poster at my local Sam Goody store (where I worked a summer job) that I understood how big Pokémon had become. I knew that gaming magazines were talking about it, but I was out of the loop in the summer of 1999, and had never, to that point, owned a Game Boy.
The poster said "Gotta Catch 'Em All!" and had a small picture of every Pokémon from the game that was hot at the time (probably Yellow). I wasn't too sure what to make of it. Wasn't Game Boy effectively a dead platform? How was it that something could be new and hot on a system so close to the end of its life?
Nintendo released Pokémon game after Pokémon game, and I continued to meet each iteration with puzzled indifference. Some snarky gaming magazine had told me that Gold was just a remake of Red, with new creatures; thus, wasn't Fire Red incredibly redundant? How many times could they release what is ostensibly the same game, and have people go crazy for it? (Please don't ask me that same question about Super Mario Bros. I have no answer.) Every time they released a new game, I thought "Well, they've milked this as far as they can go" but it keeps on going.
I finally broke down and tried the game out when Pokémon Diamond and Pearl came out for DS in 2006. I picked up Pearl and played it for several hours, getting to a part of the game that required I spend time mining underground. I thought it was okay (though incredibly dated), and I eventually put it back down. After some time, it went into the pile of games that I brought to GameStop every so often for trade credit. I assumed that was it for Pokémon and me.
When I joined NWR in 2009, I realized that as far as Nintendo fans went, I was just about the only one who did not go gaga over Pokémon. Not coincidentally, I was one of the oldest members on staff. It became clear to me that I had missed the craze by just a few years, and if I had still been early in high school, and had a Game Boy when Pokémon hit big, I would have been sucked in too. I knew this because several people whose opinions on games I had held in great regard were suddenly reduced to crazy people when Nintendo announced the 15th and 16th games in the Pokémon series, HeartGold and SoulSilver. For months, it would be the craze of not only the NWR podcasts that I was participating on, but also other gaming podcasts featuring people who had otherwise minimal interest in Nintendo products. How have I managed to avoid this incredibly powerful drug?
In a few weeks, Nintendo will follow up the smash success of Pokémon Black and White with Pokémon Black 2 and White 2, the first direct sequels in the history of the franchise (Think Final Fantasy X-2). I am being tasked with the review of Pokémon White 2, meaning that I am going to dive into the series in the deep end – with little baggage and even fewer expectations. I am going in with a clean slate, and will try my best (even more so than my brief dalliance with Pearl) to enjoy a Pokémon game and see if I can fall under its spell. I do not think I will be catching them all, but I might just catch Pokémon fever.