Have you guys heard about this thing?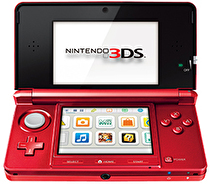 As a writer and editor for a Nintendo-focused site, I have certain responsibilities: stay atop the company's endeavors, keep up with the latest wave of games, have a deep and intimate connection to the hardware, etc. Which is why, a good year after its launch and almost that long after I joined NWR, I picked up a... what are they calling this thing, a 3DS?
I'd always meant to grab one, honest. Since the launch, though, I simply found every reason not to. First, it was too expensive, and lacked the games to sweet talk me into purchase. Then I missed the Ambassador boat. Finally, I solemnly decided to duplicate my consumer pattern with the DS, and wait for a sleeker, more robust revision to turn up, sweep me off my feet, and rocket me into Nintendo nirvana.
As 2012 crept on, though, suppressing the urge to buy became more and more untenable. With an ever-expanding library of retail and downloadable games I felt inclined to dabble in, and frequent furor over titles like Mutant Mudds and Kid Icarus: Uprising, I knew my austerity couldn't last. So when my friend and colleague Scott Thompson let the staff know he had a unit to unload about a month ago, I sprang for it and a copy of Super Mario 3D Land.
Fortunately, I think it's a fun little machine (and 3D Land is pretty fine, I guess) with some features uncharacteristic of Nintendo (4339-3484-4097—add me!) and plenty of potential. More importantly, though, acquiring the 3DS cleared up my long bout of Nintendo malaise; after sustaining myself for months on the occasional DS (or even Wii) title, I'm genuinely giddy about the crop of games coming down the 3DS pipe, which is more than I've been able to admit for too long. I want to snag ghosts in Luigi's Mansion 2, tap along in Theatrhythm, float and fight in Paper Mario—I want to do chores in Animal Crossing.
So between the deep roster of upcoming games and the backlog I'll need to curb, I see a plentiful 3DS experience in my future.
It's good to be on board.