This independent remake of Metroid 2 is looking pretty fine.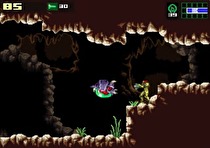 While 3DS owners wait for the Metroid II: Return of Samus to hit the system's Virtual Console marketplace, they (and everyone else) can and should play the recently released demo for Project AM2R (Another Metroid II Remake), the extremely promising fan update of the oft-overlooked 1991 Game Boy game
The project, which has been in independent development for nearly four years, uses the GameMaker programming platform and takes graphical and gameplay cues from more recent Metroid titles like Zero Mission and Fusion. The large sprites and cramped view of the original are eschewed for a significantly pulled out view. This, along with the new active and pause screen maps, facilitates exploration, something of an unruly task in the original and a necessity for any Metroid game.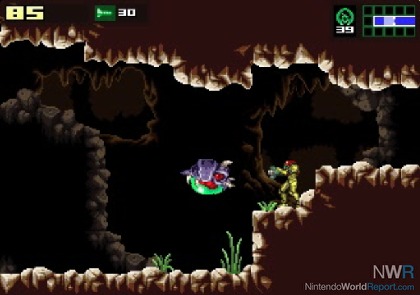 The demo, which reportedly approximates the first section of the finished game, starts Samus off with only a healthy supply of missiles. As it progresses, the demo runs through a taste of the game's weapons in fairly quick succession, including the Morph Ball and bombs, Charge and Ice beams, and the Spider Ball. The relatively large demo area is also littered with Missile Expansions and Energy Tanks, both of which come in handy during the half-dozen or so particularly trying Alpha Metroid encounters.
Though the remake will retain the original's linearity—which required the player to eliminate Metroids before progressing—it supplements the experience by implementing a number of techniques native to to other parts of the series, including ledge grabbing and wall jumping. Other additions range from aesthetic (a unique trailing effect is applied to the movements of a rolling Morph Ball, a la Metroid Prime) to mechanic (the animation of Samus' movements and jumps is spot on) to complementary (a Prime-esque log system; an equipment screen). Additionally, the game's soundtrack is an updated set of tracks that, in the parts shown, leans toward the more recent choral-style of the Metroid games in its adaptation of the II themes. A number of music files are included with the demo download.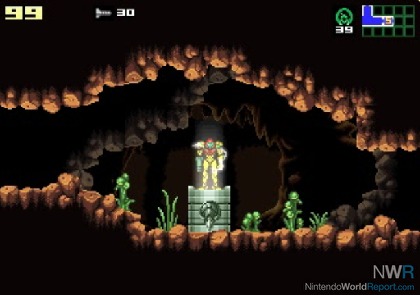 It took me roughly half an hour to finish the demo, though individual times will vary depending on familiarity and experience. Regardless, it is a remarkably solid Metroid experience. The 2D exploration feels as natural and intuitive as it ever has in a Metroid game, as does the sense of atmosphere. People have been clamoring for a Zero Mission-quality remake of Metroid II for a long time, and unless Nintendo springs a killer surprise on us, I would wager AM2R can be just that.
For a wealth of development insight, including videos and screens, visit the project's page.