The HD upgrade for Sega and Headstrong's excellent rail shooter is a killer app for me.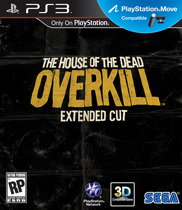 I can't say I'm surprised that Sega and Headstrong Games are bringing The House of the Dead: Overkill to PlayStation 3, complete with new levels, HD graphics, and Move support. I can say that, for better or worse, I must own a Move controller, possibly two, by the time this game comes out in October.
And I hate Sega and Headstrong for that, but for good reasons. I love The House of the Dead: Overkill. It might be my favorite game on Wii. It's one of the best rail shooters I've ever played. It also has a stupidly awesome and gross Grindhouse-style story and excellent music, complete with even better remixes. To top it all off, they say the "F" word. A lot.
I'll use this announcement as a soapbox to tell all Wii owners (over the right age, of course) to play this game. It's really good. If you have a Move, maybe you should hold out for that version. Regardless, just play it. I know I'll likely be picking it up come October. I also know I'll make a point of playing it at E3 next week.
Now that this is happening, can we have a direct sequel? Please? Cafe launch title? C'mon!