This is possibly the coolest construction project I've seen this year.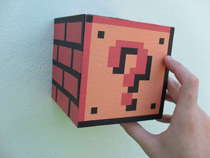 Yesterday, I was linked to this little project tutorial, and after mulling over it, I've decided the word must be spread.
Instructables user brunoip has created a real life coin block from Super Mario Bros. that when hit from beneath, produces a coin, with the same familiar 8-bit sound effect.
The block attaches to a wall to add to the illusion that it's floating in the air, and the slot the coins are fired out of is so well hidden that the whole thing looks incredibly authentic. It would make for an awesome, albeit slightly geeky storage solution for loose change.
Check out the site for full instructions on how to recreate this monetary masterpiece for yourself; there's even a few videos showing it in action.
If any of the more creative readers out there wish to make one of their own, or any variations they can concoct, by all means, email me some photos.