Life isn't a game...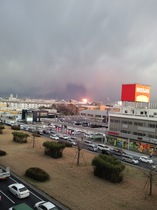 At about 3:00pm, I was just finishing work, and I heard someone shout "JISHIN" (Earthquake) in a panicked voice. I braced myself expecting the usual few shudders, but it turned into much more than that.
I was on the second floor, and as the ground shook outside, it felt like a giant was pushing and pulling the building back and forth.
Outside, even though there was no wind, trees were swaying vigorously back and forth, pylons and their cables were swinging wildly and cars were bouncing up and down. This happened for about five minutes nonstop.
My building was quickly evacuated after the tremor stopped. As I walked outside, people were sitting on the floor, sirens were going off all over and people could be heard crying all around me.
I tried calling my wife, but phones were down. I tried emailing from my phone, and it got through. Thankfully, Japan switched from SMS messaging years ago, and mail servers were obviously unaffected. My friends and family were safe, so my mind was slightly more at ease for now.
My first thought after that was, "How am I going to get home?" The trains were probably all going to be delayed or stopped, so I walked towards the nearest bus station.
As I made my way down the main street, there were crowds of people just standing around looking shocked. I passed the train station, and sure enough, it was completely closed, and all trains had been cancelled indefinitely.
The train crossing was permanently in the up position. As I looked up and down the train track, the trains were just standing still, empty of people.
This was a bit worrying because I was very far from home, so my only chance was a bus or taxi, and failing that – walking.
As I entered the bus terminal it was filled with people, all waiting for buses that were eerily non-existent. Some people had been waiting for an hour already; not a sign of a bus.
The next, larger bus terminal was almost an hour on foot away, with little hope of its situation being any different, but I had to try.
I was on a main road now, normally filled with cars flying by, but by now everyone was trying to get home and a huge line of stationary traffic had formed.
Then I reached a bridge and as I walked along it, I saw an old man just looking into the distance with his mouth agape. I looked where he was looking, and I saw a huge fire in the distance. Before I could register what was going on - it exploded. A 300m high mushroom cloud erupted right in front of me. I could hear the roar of the explosion even though I must have been a couple of kilometres away.
Immediately after, I saw a fleet of twin-propeller Army helicopters fly low overhead. I could feel the vibrations on the ground.
Shell-shocked, I arrived at the second bus station over an hour later, but things were even worse by now.
Thousands of people who normally rely on the trains were trying to find other ways to get home, some of them living far away.
Unfortunately, none of the buses went anywhere near where I live, but I did find some that went to Kaihin Makuhari, which people will know as the venue of the Tokyo Games Show, a place I'm very familiar with. Even though it's about a two-hour walk from my place, at least I'd know my way.
The bus pulled up, but instead of letting people on, the driver closed the doors and went off. The bus stop was right next to a police box, so I asked the officer what the deal was. He said that the whole Kaihin area is off limits, as it's near the bay and they've had severe flooding and building damage.
So, my last hope of getting home had just been declared a no-go zone, and that's when the sun started to set.
"OK," I thought, "looks like the only way I'm getting home tonight is by my own two legs."
I started walking down the motorway, still filled with static vehicles; many people were just watching TV or DVDs in their cars, as they knew they were probably going to be there well into the night.
After what felt like hours of walking, I saw a sign near the road for a town that I recognised, but unfortunately, I knew was still miles from where I lived.
Exhausted, cold and disheartened, I reached my breaking point – desperate times call for desperate measures.
I passed a supermarket which was obviously shut and devoid of people, but I saw a massive line of abandoned motorbikes and bicycles in the car park, all strewn across the floor thanks to the earthquake.
I know nothing about hot-wiring, other than I know it takes more than a press of a button or a touch-screen minigame in real life, so I gave up on taking a motorbike, instead searching for unlocked bicycles.
Just my luck, they were all well-locked or chained to a pole, but what was that I saw in the bush?
An old, partly broken, but perfectly useable bicycle – my saviour! From that point on I pedalled my legs off, weaving in and out of the traffic, ignoring all stop signs that were all somewhat ironic now anyway.
With some streetlights out, it was incredibly hard to see anything. As no cars were moving, it was silent too. A couple of times I almost ran people over as they seemed to just appear out the darkness. At one point, I was cycling through a pitch black graveyard, passing under Torii gates not knowing what was in front of me.
Finally, I pulled up at my place and checked my watch – 10:45pm.
My name is James Charlton, and that was the longest day of my life.
This is dedicated to the hundreds of people who lost their lives yesterday and the many thousands still trying to get home, my thoughts go out to them.
I can also confirm that my fellow Japan correspondents Matt Walker and Danny Bivens are alive and well.