Agent Ford tells you how he sees fragged people and is like a ninja. Repeatedly.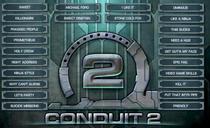 Every so often, a representative from a game sends you something goofy. Sometimes, that goofy something will entertain you a lot for longer than you'd expect. High Voltage's Michael Ford soundboard is one of those goofy somethings.
I'm not quite sure how lines such as "I'm a killionaire" and "Put that in your pipe and smoke it, Dad" have to do with Conduit 2's story, but I find it best not to ask such questions.
If you're feeling especially adventurous, try calling friends and see if they buy the fact that an apparent crazy person with your phone number is saying things such as "Damn, Andromeda is a stone cold fox."
Conduit 2 is set to release in April.