I didn't receive a copy of the game, but I got this nifty food box!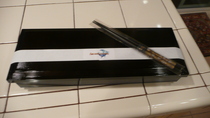 Yesterday evening I was greeted home by a mid-sized box shipped overnight from a video game Press Relations company, OnePR Studio. Somewhat perplexed as to what could be in an unexpected box too large for a Wii or DS game, I opened it up and was greeted with no game at all. Instead, cushioned by packing material was a traditional Japanese bento box and a letter.

Sometimes video game companies send weird stuff to promote their games. As a teaser for Arc Rise Fantasia, being released this month for Wii, Ignition Entertainment and its PR team apparently thought it would be cute to provide a "Japanese RPG Bento Box," useful for "picnics under cherry blossoms, or lunch atop Mt. Fuji." Its paper seal sported the game's logo.

Likely inspired by a trip to the hyaku-yen shop, accessories inside included a (predictably bland) little sweet bean-filled wafer snack, a half-dozen surprisingly good wasabi-coated pistachio nuts, two gelatin shot candies (that tasted like jolly ranchers), and a sweet plum candy left uneaten. Also included were a few small, rubber sushi models (huh?) and a little bracelet that probably boosts my magic.

I guess all that's left is for me to make or find a three-course meal appropriate for this vessel!