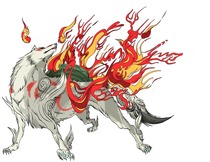 Given the root of the word it's speculated that the title is a sequel to the critically acclaimed Wii/PS2 title, Okami.
Today, Andria Sang confirmed that the title will be appearing in the next issue of Famitsu, thanks to a listing on a 7-11 website (really). Of course, this is not an official confirmation that the title is associated in any way with the original; however, the issue will be hitting store shelves on September 3, revealing the truth.
Back in May, Famitsu conducted a reader poll asking them which titles they'd most like to see a sequel to. Okami placed third in the poll, indicating definite interest from Japanese gamers in the title.
Hopefully, this will culminate in an official announcement of the title worldwide as an official Okami sequel.