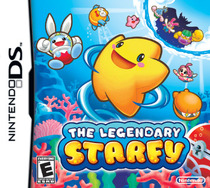 Up until now, everyone had resigned to the fact that NCL had control of the brands and truly made all of the calls as to what stays in Japan and what goes.
Considering the first Starfy title was released nearly 7 years ago, it begs the question, how long has NOA been making these calls? Not only that, but what other game series has it barred from release in America?
Of course, Disaster: Day of Crisis immediately comes to mind, considering that it was even released in Europe. The same goes for Trace Memory Wii, Freshly Picked: Tingle's Rosy Rupeeland, Doshin the Giant, and Kuru Kuru Kururin.
I have to wonder what eventually made Nintendo of America cave on allowing the title to come to America (Rhythm Heaven too). When I originally imported Starfy, my immediate reaction while playing was "Wow, I can't believe they haven't brought this over yet." It felt accessible, fun, and very much like Kirby, a series that has thrived in America for many, many years.
Though Nintendo clearly makes a number of great business decisions, they also make a number of poor ones. Given all of the complaints during the GameCube era regarding droughts and lack of great software, you'd think an obvious choice would be to bring some of these Japanese titles to America to fill the gaps in the lineup, and possibly establish new, strong brands.
Given the release of Rhythm Heaven and the impending release of Starfy, let's hope we are witnessing some sort of trend where NOA, NOE, and NCL product listings are more congruent.