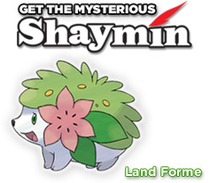 The good news is, Toys R Us finally seems to be getting it. Unlike the awkward start times and massive lines of past events, us Pokemon fanatics are now given an entire week in which to leisurely mosey into a store, inconspicuously pull out a DS, and initiate the Mystery Gift transfer. I did it today, and I'm very proud of my brand new Shaymin. I can't wait to let him visit my ranch.
Is this the first time you are hearing about this event? Don't worry! There's still plenty of time to go in and grab your very own hedgehog, assuming you live near a Toys R Us. All the info is up on the official Pokemon Site but it is far from complicated. You walk into the store, fire up your copy of Pokemon Diamond or Pearl, select "Mystery Gift" from the main menu, select "Receive Gift", and finally pick "Get Via Wireless." This should then initiate the process. When it's complete, all you have to do is talk to the man standing in the Pokemart from within the game. Be careful though, if you've done events in the past, you may have to clear out some of your past "cards". This is done by selecting the "Check Card" option from the Mystery Gift menu.
If all of this gets you excited, you'll also be interested to know that Toys R Us stores will be giving away Regigagas in March as well. These are all leading up to the release of Pokemon Platinum. When you transfer either Shaymin or Regigaas to that game, it will unlock some neat new locations and Pokemon forms.
Oh, and, in case you were wondering, here are the stats of my Shaymin. Is yours stronger than mine?
Shaymin

Level: 50

Pokedex No. 492

Original Trainer: TRU

ID No. 02089

Item: Micle Berry

Nature: Hardy

Attack: 116

Defense: 116

Special Attack: 120

Special Defense: 117

Speed: 110

Ability: Natural Cure
Moves:

Seed Flare

Aromatherapy

Substitute

Energy Ball