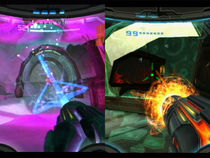 I just looked at every Corruption review linked on Game Rankings and not one reviewer mentioned that dynamic lighting was excised from the game. Many reviewers praised the game's lighting in general, apparently referring to the bloom lighting, particle effects, a few random shadows and psuedo-specular highlights (which to be fair, do come together quite nicely to distract from the lack of dynamic lights).
If you're not familiar with the technical jargon, let me make the difference between the presence and lack of dynamic lighting perfectly clear. In the original Metroid Prime, every single shot fired from your arm cannon shed light on the world. Some weapons (the wave beam or charged shots for example) shed more light than others, but they all did something. When the power went out in the labs of Phendrena, you could actually navigate by the purple light of your Wave Beam shots as opposed to using the Thermal Visor. In Echoes the dynamic lights were a bit more subdued for regular shots, but still quite noticeable for charged shots. I'm not sure if that was an artistic decision or one designed to let Retro ramp up the graphics in other areas, but it probably contributed to our failure to notice the lack of dynamic lighting in Corruption.
I honestly couldn't quite believe that Corruption had no dynamic lighting when I first noticed it. I loaded a few different save files and visited every world to see if I could find any dynamic lighting. Finally, upon starting a new game, I noticed just a bit of dynamic lighting in the opening cinema. There is a pulsing blue light on the left side of the screen in a brief scene featuring Dark Samus. There was also a light in the next scene illuminating Samus' Zero Suit as she awakens from hibernation, but that was the last I saw before the gameplay begins. In the next main scene, there is a conspicuous lack of lighting from the glowing thrusters on Samus' gunship as it flies by a Federation cruiser, just as there is no lighting any time the ship takes off or lands during gameplay (although the gunship casts a fake shadow). I didn't delve further, but I wouldn't be surprised if there is a touch of lighting in controlled situations (morph ball tunnels) and other cut-scenes, but lack of lighting from Samus' beam weapons is rather glaring.
To be fair, although dynamic lights are nice, the GameCube (and Wii) implementation can get messy since lighting is only calculated at triangular vertices and then interpolated across the triangles. This looks quite alright when triangles are small (such as the ones that make up Samus and her Gunship), but it can look pretty bad for some of the big triangles that make up the game world. You can see what I mean in the original Prime by performing various tests. If you shoot the middle of a big triangle, then very little lighting occurs. If you shoot the corner if a big triangle, the lighting will extend across the whole thing (fading as it gets to the unlit vertices).
Perhaps Retro thought retaining the vertex lighting would do more harm than good to the game's image since games on competing consoles almost invariably feature per pixel lighting these days. Admittedly Corruption does have a squeaky clean look that vertex lighting would have sometimes marred.
In any case, now that I have noticed exactly what was tickling the unconscious part of my optical lobe, I can't fail to notice what's missing, and I have to say I don't like it one bit. Even though it was messy sometimes, the dynamic lights of the original Prime add animation and vibrancy to the game world that Corruption is missing.
I wonder if any significant number of people out there will care about this. I wonder if any game reviewers will feel embarrassed for failing to notice (for my part, I'm inclined to start consulting a technical check list when I review games from now on). I wonder if anyone at Retro would be willing to comment. We shall see.