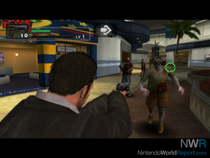 A few years ago, Chris Rock had a great comedy routine about guys who always want special attention for things they're supposed to do anyway. To paraphrase:
'I ain't never been to jail!"
"What, you want a cookie?"
I think this scenario perfectly captures the current state of Wii graphics. We all know that GameCube was a powerful system for its time, and we know that Wii is significantly more powerful than that. Yet the vast majority of Wii games, including Nintendo's own projects and those of talented third-party studios, barely meet the standards of mid-level GameCube visuals. I'm not talking about budget-priced shovelware. Marquee titles like Battalion Wars, Rock Band, Animal Crossing, de Blob, Boom Blox, and Mario Kart could all be mistaken for last-generation titles, based on their graphics.
In fact, some of the Wii games most highly praised for their visuals are literally last-generation games, including Twilight Princess, Resident Evil 4, and Okami. Now we have Capcom announcing a remake of Dead Rising, an Xbox 360 game, and they are flaunting the fact that it runs on the same engine as RE4: Wii Edition. I guess we're supposed to be relieved that Dead Rising might look as good as a GameCube game when it's brought over to Wii.
At E3 last week, I complained to Steven Rodriguez that the water in Wii Sports Resort's power-ski game looks closer to Wave Race 64 than Wave Race: Blue Storm. His response was: "So what? It's Wii Sports." And I agree in principle that graphics are not especially important in this kind of casual game. However, I also don't think it's asking too much that a new, $50 Wii game meet the minimum visual standard of Blue Storm, a game that is nearly seven years old and was built on predecessor technology. Casual or not, if I'm going to spend a large portion of Resort looking at the water, that water shouldn't be distractingly ugly. It certainly was in the E3 demo.
Here's my message to Nintendo fans, media, and especially game developers: raise your standards. I'm not saying that Wii games should look like PlayStation 3 games. I'm just saying that Wii games should look like Wii games. If you're the "vote with your dollars" type, here are a few suggestions to send a message: Zack & Wiki, Metroid Prime 3: Corruption, Super Mario Galaxy, and Geometry Wars Galaxies. (If you can think of another game with better-than-GameCube graphics, let us know in Talkback.)