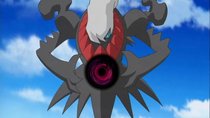 As usual, I was incredibly interested, but didn't want to brave the usually obnoxious crowd to make it happen. Having participated in a similar event last fall to receive Manaphy, I knew that the wireless transfer worked relatively smoothly. My plan this time was to not even enter the store. It was going to be a drive-by Darkrai snag!
I didn't realize the event didn't start until noon, so after killing some time by getting some grocery shopping done, I swung back over and parked as close to the front of the store as I could possibly get. Reassuring my fiancee that we may not even have to enter the store (and thus become embarrassed), I cracked out my DS, fired up the mystery gift option, and crossed my fingers.
After waiting a good length of time, I realized my plan didn't work. We had to go in. "Do I have to?" chimed my other half. Yes, I made her come in too. I'm such a jerk. It actually wasn't that bad though! I left my DS running constantly searching for the mystery gift. As soon we walked through the first automatic door, my DS chimed and Darkrai was mine. We didn't even have to set foot inside the actual store. Immediately, we turned around and went back to the car.
Am I a self-conscious loser for being too embarrassed to enter the store? Or does the thought of a packed video games section full of squealing kids make me cringe? Probably a little of both. Anyway, if you are a Pokemon dork like me and are interested in the vital stats of my Darkrai, here they are.
Level 50

Original Trainer: ALAMOS

ID Number: 05318

Item: Enigma Berry

Nature: Sassy

Food Tastes: Bitter

Ribbon: Classic
HP: 135

Attack: 102

Defense: 101

Special Attack: 147

Special Defense: 104

Speed: 127

Ability: Bad Dreams
Moves:

Roar of Time

Spacial Rend

Nightmare

Hypnosis