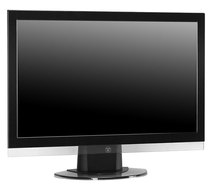 The main problem with the monitor is that 1920 x 1200 is a 16:10 ratio not a 16:9 ratio. That 11.1% increase in vertical resolution is far more noticeable than I ever would have suspected. It's incredibly annoying anytime a large shape is encountered that should be symmetric (the doors in Metroid Prime 3 come immediately to mind). Even in games without obvious symmetry, all the human characters and doorways seem unusually tall.
In theory, a well designed monitor could fix this problem easily. For example, when my particular monitor detects an HD signal, it can be set to display a proper 16:9 ratio by putting "black" bars above and below the pictures. However, these not-quite-black bars are a little annoying since they serve as a constant reminder that you're not really playing on a 16:9 unit. Even so, it's the best they could do while maintaining the vertical resolution (which is essential for competing with the 1600 x 1200 resolution that CRTs have easily displayed for years).
The thing that's particularly problematic for me is that the 16:9 option inexplicably vanishes when my monitor detects a non-HD source. Obviously, the designers assumed that a non-HD source would never be presented in 16:9 (completely forgetting about several hundred million DVD players and legacy game consoles in the process). The implications of this are that Wii games, even running in progressive scan, are stuck with an 11.1% vertical stretch (not to mention any classics with a 16:9 option such as Eternal Darkness and Goldeneye). If this sounds like something that would bother you, be sure to investigate the particular model you're looking at before picking up a 1920 x 1200 monitor for gaming.
Two more things are worth mentioning. Even when kicking back with a traditional controller in a relatively comfortable chair, I find it really hard to locate adequate leg room without getting so far from my computer desk that even a 24 inch wide screen starts to look a bit small. Additionally, making the Wii sensor bar work well at that short of a distance is rather difficult.